Four thugs to hang for killing Uhuru kin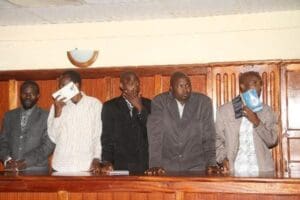 Four men who robbed and murdered President Uhuru Kenyatta's cousin were yesterday sentenced to death by a Nairobi court.
Senior principal magistrate Lawrence Mungambi convicted Paul Maluki, Mutua Nzioka, John Masila and Aggrey Musina of robbing and killing lawyer Rose Waruinge at her Kilimani residence in Nairobi on February 10, 2012.
Waruinge was shot in the chest by the robbers, who raped her female guests.
The fifth defendant, Alex Mwendwa, was acquitted for lack of evidence.
The four had denied committing the offence, saying on the day of the crime they were separately on their jobs.
But the prosecution said there was enough evidence that the four killed Waruinge.
The magistrate said the four were positively identified by victims at a police parade.
He said most female victims who testified said they were raped when the lights were on and they were able to clearly identify the gang.
The magistrate said the prosecution proved the case beyond doubt.
The magistrate analysed evidence, including that of investigating officer John Shegu who led investigators into the robbery.
Shegu and constable John Kuria, based at Makadara CID and Kilimani CID offices respectively, told the court that on the day of the attack, police rushed to the scene but found Waruinge had been taken to Nairobi Hospital.
They said police detectives visited the hospital, but they were told she had died.
Some witnesses, who are Waruinge's family members, gave evidence in camera.
This followed a complaint by the prosecution that witnesses had received death threats not to testify in the case.
The four were also convicted of robbing five other people on the same date.