Italy to give Kenya Sh4.2 billion in extended debt swap programme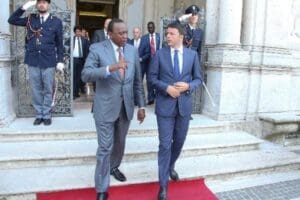 The Italian government has offered to extend and expand its debt swap program, a move that will see Sh4.2 billion injected into key socio-economic projects in Kenya.
The decision was reached on Monday
at a meeting between President Uhuru Kenyatta and Prime Minister Matteo Renzi
in Rome, Italy.
Under the debt for development swap
program, Italy converted part of its outstanding debt to
Kenya to funds that will finance projects in health, education, water and
sanitation in high poverty density regions in the country.
Uhuru welcomed the
expansion and extension of the debt swap program, saying it will go a long way
in boosting the government's efforts to improve lives.
Renzi also offered Italy's support to the war against terrorism through training police officers in counter-terrorism.
Italy also pledged to give equipment for border control and surveillance while the two countries step up their information gathering and sharing.
Details emerging from the meeting indicated that the training of the police officers will commence in October.
Uhuru and Renzi further discussed cooperation in agricultural production to safeguard Kenya's food security.
They also discussed development and financing of small and medium-size enterprises.
Uhuru encouraged Italian companies to invest in Kenya's manufacturing industry to bridge the balance of trade between the two countries, which is currently in favour of Italy.
Kenyan exports to Italy amounted to Sh7 billion i 2014, against Italian imports valued at Sh20 billion.
Uhuru, who
is on an official visit in Italy, was received by Renzi at the Villa Doria Pamphilj, the official meeting hall before
the start of the bilateral meeting.
The reception included a guard of
honour mounted by a detachment of the Italian military, that played the country's national anthems accompanied by the Italian military band.
Cabinet Secretaries Amina Mohamed (Foreign Affairs), Adan Mohammed (Agriculture, in acting capacity) and
Joseph Nkaissery (Interior) and AG Githu Muigai.
The meeting agreed that
the Italian Minister of Trade will visit Kenya to hold discussions on boosting trade with Amina and Tourism CS Phyllis Kandie.
Uhuru was later hosted to a banquet by Italian President Sergio
Mattarella in Rome.
– the-star.co.ke