Uhuru becomes first president to attend Maasai cultural fete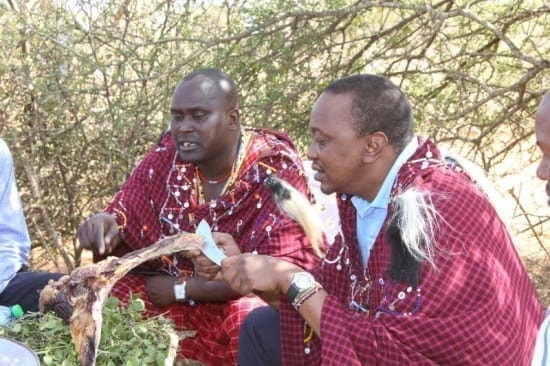 President Uhuru Kenyatta attended the ordination of the leader of a Maasai age-group, being the first time such an important cultural event was graced by a Head of State.
The President joined leaders and community members at Illaiserr Manyatta in Kajiado County to witness the ordination of Kupere ole Metui as the Iltuati Age Group leader.
The President also donated Sh2 million to help the community finance the traditional rite, which has been running for the past four months.
There were many light moments as local leaders engaged in a tug-of-war to decide which age-set President Kenyatta belonged to and even which clan he should join.
The issue was finally settled by Kajiado South MP Katoo ole Metito when he said, "everyone loves what is good and all of us want you to belong to us."
President Kenyatta, dressed in Maasai regalia, was escorted to the venue by newly initiated morans (youthful Maasai warriors) dressed in their famous colourful outfits.
There was an ecstatic mood at the manyatta near Imbirikani, Kajiado South Constituency, with the old and young happy that the President's visit has lifted their culture to a new level.
President Kenyatta said his objective is to reinforce positive cultural practices and called on Maasai leaders to ensure that those participating in cultural rites also get education.
"Tradition does not mean ignorance. Tradition and education go hand in hand," he said.
Uhuru said those brought up without a strong foundation do not become useful members of the society, adding that there was a need to promote positive traditions.
"Our Constitution requires that our cultures and traditions be supported and it is important for us to support the Maasai culture," said the President.
He also said that the National Youth Service (NYS) would visit the Manyatta today and meet the young men in a bid to recruit them to work on local projects to help the community.
Uhuru becomes first president to attend Maasai cultural fete