Kuria insists Raila, Nyong'o contributed to Ruto's ICC woes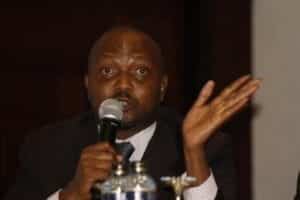 A defiant Moses Kuria has maintained that Cord leader Raila Odinga and Senator Anyang' Nyong'o contributed to Deputy President William Ruto's woes at the International Criminal Court.
On Tuesday, the Gatundu South MP referred to a petition written by Prof Nyong'o to the UN Security Council regarding the Kenyan cases.
Mr Kuria said the petition was prepared on behalf of Mr Odinga's political party, ODM.
The petition listed 16 reasons why the cases at the ICC could not be deferred or referred to Kenya.
"There cannot be doubts that this letter was authored on direct instructions and orders of Raila," Mr Kuria said, citing part of the petition.
Mr Kuria said it was wrong for Mr Odinga and Prof Nyong'o to claim they had nothing to do with fixing Mr Ruto when in the letter, they indicated that all the six suspects should be tried at the ICC.
"We cannot change the story today. When he (Mr Odinga) claims that he could not have implicated his ally, this letter flies flat on his face," Mr Kuria said.
Mr Kuria challenged Prof Nyong'o to sue him if he believed he didn't author the document.
"I am ready to go to jail on record of this document. I am sure and my conscience is clear that this document was authored by Prof Nyong'o on behalf of Raila," Mr Kuria said.
He dared the former prime minister to stop shying away from revealing the truth about the post-election violence and how the witnesses were sourced.
"Don't hide. Come and join me. Let's confess. It does not make you less of a man," Mr Kuria said.
Mr Kuria said that the cases that ended up at the ICC were as a result of a political contest between PNU and ODM.
This, he said, was after ODM went out claiming — before the Kriegler commission that investigated the conduct of the 2013 General Election — that PNU had stolen the election, and PNU arguing that ODM was behind the violence that rocked the country after the polls.
"This is what both sides told the Kriegler team. Look at the Kriegler and ICC witnesses. It is almost copy and paste," Mr Kuria said.
He said Narc-Kenya leader Martha Karua was the de-facto leader of PNU when the party was prosecuting its case before Kriegler commission.
"The witnesses presented to Kriegler to show that PNU won were referred to me by Karua. She told me to secure accommodation for them," said Mr Kuria.
He said he had raised these issues revealing how the two parties procured witnesses, as early as December 15, 2010, when the suspects were named.
-nation.co.ke