Troubled KQ gets Ksh 4.2 billion from government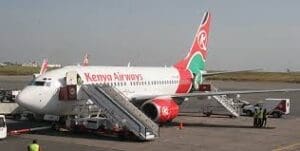 Troubled airline Kenya Airways has received Ksh 4.2 billion from the government to help normalise its operations.
Speaking when he appeared before the Senate Committee on the inquiry of issues facing Kenya Airways, Treasury Cabinet Secretary Henry Rotich said the money will go towards supporting the national carrier, which has not made a profit in three years.
"The government has provided a short term support by way of a shareholder loan of Ksh 4.224 billion to meet its financial obligations and particularly to pay off critical creditors, including supplies of fuel and other services," said Rotich.
Rotich stated that the government is in consultation with the other shareholders to offer requisite support based on the capital requirements to support adopted turnaround plan.
"The government owns 29.8 per cent of the ordinary shares of Kenya Airways Ltd. It is, therefore, the single largest shareholders in the company, followed by KLM with a shareholding of 26.73 per cent. IFC is the next largest shareholder, with about 9 per cent."
The airline, partly-owned by Air France-KLM, also has rising debts from new plane purchases and its losses for the year ended March 31st increased to Ksh 29.7 billion from a Ksh 4.86 billion a year earlier.
The CS also announced that African Export-Import Bank (Afreximbank) has approved a USD 200 million bridging loan for the airline.
"This short term facility will be received in two tranches of USD 100 million each," Rotich told the committee.
"Once the long-term capital requirements are firmed up based on the approved turnaround plan, the government in consultation with other shareholders will review its options, including equity injection and/or loan guarantees," Rotich said.
It is estimated that KQ will need a USD 500-600 million bailout but a precise figure will depend on a turnaround plan being prepared by McKinsey and Seabury consultants.
Until its problems of the past few years, the carrier was regarded as a model of successful privatisation after its listing in 1996 turned it into a profitable company.
-citizentv.co.ke