Uhuru engages more US firms on investments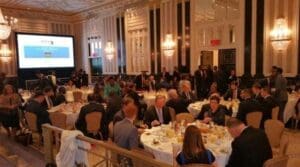 NEW YORK, United States, Sep 30 – Following a successful meeting with American entrepreneurs last Saturday in New York, President Uhuru Kenyatta held a second round of talks with businesses, this time with particular focus on the Lamu Port Southern Sudan-Ethiopia Transport (LAPSSET) Corridor project.
The meeting with the Corporate Council on Africa (CCA) comes ahead of the 10th biennial US-Africa Business Summit set for Addis Ababa between February 1-4, 2016.
President Kenyatta assured the American businesses that Kenya was eager to facilitate more investments, with emphasis on increased Public Private Partnerships.
"We have for instance a new Special Economic Zones Act which means that you just don't produce under bond for export. You can now have access to the Kenyan market, the region and international market."
The Corporate Council on Africa is a non-profit, membership-based organisation established in 1993 to promote business and investment between the United States and Africa.
It includes more than 180 companies, which represent nearly 85 percent of total US private sector investments in Africa with a focus on agribusiness, capacity building, energy, finance, health, ICT, infrastructure and security.
It works with governments, multilateral groups and businesses to improve Africa's trade and investment climate and to raise the profile of Africa in the US business community.
At the meeting, President Kenyatta acknowledged that Africa was facing challenges but noted that the tide was gradually changing. "The gloomy stories are getting fewer and far apart."
He said Kenya was working to improve security but explained that the international community must play its part to ensure stability in South Sudan and Somalia. "Increased security will lead to more investments," he said.
He pointed out that Kenya has instituted reforms to ease the process of setting up businesses and increase access to credit. "You can be assured of making returns in your investments and in turn, taxes will help my government provide better services to the people of Kenya.
He said counties present new investment opportunities that will create equitable growth and foster a more stable economy.
On Saturday, the Business Council for International Understanding (BCIU) held a session with President Kenyatta and Cabinet Secretaries for Devolution, Security, Health, Industrialisation, Environment and Transport.
"One company in particular doubled its commitment to invest in solar power in Kenya over a period of time developing up to about 2,000 megawatts of power at a cost of approximately $4 billion," President Kenyatta said in an interview after Saturday's meeting.
-capitalfm.co.k