Uhuru urged to cancel US trip over teachers' strike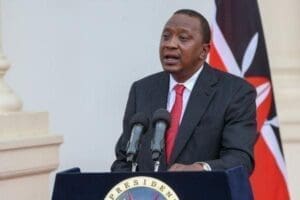 A section of Kenyans living in the United States have appealed to President Uhuru Kenyatta to postpone his planned trip to the United Nations headquarters in New York over the ongoing teachers' strike.
The chairman of Kenyans For Kenya (KFK) US Chapter Mr Peter Makanga said the President should instead "deal with the crisis facing the nation".
He requested President Kenyatta to send a representative to the UN General Assembly noting that the teachers' strike is threatening to paralyse the nation.
"Our members feel that the issue is almost getting out of hand and we doubt that you would have any peace of mind while thousands of kilometres away from home at a time when the country needs your indulgence most. We therefore suggest that you send a representative and stay put," a letter signed by Mr Makanga dated September 19, 2015 and addressed to the President stated.
President Kenyatta is scheduled to arrive in New York on Wednesday for a series of engagements, including delivering a speech at the 70th gathering of heads of state at the UN General Assembly.
State House officials have said the President would be accompanied by First Lady Margaret Kenyatta, among other government officials.
He is also scheduled to address Kenyans living in the US on September 26 at a hotel in New York.
Teachers in Kenya are on strike, a move that has forced the government to send home close to 14 million students after issuing a circular declaring the closure of learning institutions across the country.
-nation.co.ke