Joho loses cool, calls critics 'idiots' for questioning lavish travels abroad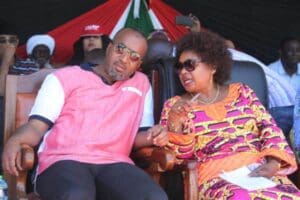 Mombasa Governor Hassan Joho has said he will continue globe-trotting to help the county develop.
He said he is a blessed governor who has always travelled luxuriously even before he became a politician.
"And, through God's help, I will travel in luxury even after I retire from politics," he said.
"I have directed my people to book me a ticket. I am going to Turkey."
Joho was responding to critics, whom he called "idiots" for questioning his travels abroad with.
They say there are no tangible results to show for his travels.
Joho spoke on Tuesday during the Mashujaa Day celebrations at the Mombasa county stadium.
The governor has been receiving the flak from some leaders and residents over his leadership style.
"For every trip we have taken as the county government, we have results to show," he said.
Joho said refurbishment of the Coast Provincial General Hospital is the result of donation from friends in the United Arab Emirates.
"We are the only county that was able to secure for youth Sh500 million from the UK government, only because I took time to go and engage them," he said.
"The other day I came from the World Bank and some idiots can stand here and say that is the work of the World Bank. Were you the one who went to seek the funding? Fools!"
He said he has just jetted back from Washington, DC, where he sought Sh2 billion for piping water for Changamwe and Likoni constituencies.
Joho said Turkey has committed to donate a Sh300 million MRI machine.
– the-star.co.ke