Lease of life for KQ-Regional deal to open up skies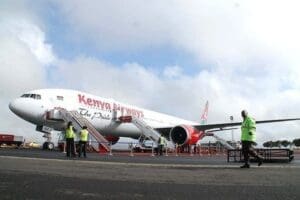 Heads of States of Kenya, Uganda, Rwanda and South Sudan will Saturday sign an agreement bringing into play a liberalised air space, giving Kenya Airways a new lease of life.
Speaking on Thursday at Northern Corridor Integration Project Summit deliberations in Nairobi, Mr Joe Nyagah who is in charge of the summit in Kenya said the sealed deal will be operational by January 1.
"Aviation officials and ministers of respective countries have been working for the past 18 months, they have now made way for the deal to be signed," Mr Nyaga said in an interview.
The four countries will now negotiate air service agreements with foreign countries as one bloc. Moreover, they will also be exposed to bigger business volume. The bigger benefit will come from classification of flights between the four countries as domestic.
This will further build on the recent move to allow use of national identification card as a travel document to ease movement within the bloc.
The deal is being hastened after Kenya Airways (KQ) made a record Sh25.7 billion after-tax loss in July. The carrier attributed the loss to competition from Middle East carriers and high operating costs.
Nonetheless, Kenya's landlocked neighbours are looking at it as a big win for the region as it will allow KQ and Rwanda Air to operate as domestic flights within the four countries.
South Sudan President Salva Kiir and his Ugandan counterpart Yoweri Museveni had proposed the plan earlier to help bring down Kenya Airways' high ticket prices.
Mr Barry Kashambo, the regional director Eastern and Southern Africa in the office of the International Civil Aviation Organisation Council, said it is about time the regional air space is liberalised.
"African countries must come together to benefit from efforts pulled together, we will expect reduced fares and increased flexibility in travel," said Mr Kashambo.
-nation.co.ke