Moody Awori criticize Tanzania's election system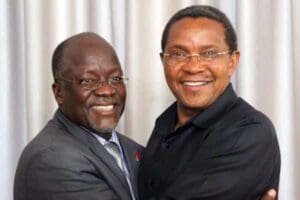 Moody Awori has criticised Tanzania's system in which the results of a presidential election cannot be contested once declared by the electoral body.
Awori, who is the head of the EAC Observer Mission, further said conflicts arising from general elections in the region have raised concerns.
In a preliminary report following the elections, the 55-member team Awori led in observing the elections, said a dispute-management mechanism is needed.
The Citizen in Tanzania reported that the EAC did not specify actions following the disputed Tanzania elections but proposed a review of the system and changes benefiting all parties.
The bloc, which sent 18 observer teams to Tanzania, said the government should quickly restart a process to review the constitution and enact relevant reforms concerning the framework of the electoral body.
The report released on Thursday stated that the reforms would include the establishment of an independent institution, with its own staff, from national to sub national structures.
It also proposed a more accurate voter register and a fresh analysis of plans and logistics for elections for material used to be delivered on time.
Awori, Kenya's former vice president, signed the report on the elections held last Sunday.
Tanzania's ruling party candidate, John Magufuli, was declared elections winner on Thursday, but his main opposition rival rejected the results as rigged.
The national electoral body dismissed opposition complaints about the process and a demand for a recount after it was reported Magufuli garnered 8,882,935 votes against Edward Lowassa's 6,072,848.
Even before the final declaration, Lowassa had called for a recount. "We do not accept the results of the National Electoral Commission," he told a news conference after the final announcement, citing fraudulent activity during the count.
The opposition's own tally, based on its representatives monitoring polling stations, gave him 62 percent of the vote, he said.
The election has been the most hotly contested in the more than half a century of rule by the Chama Cha Mapinduzi Party, which fielded Magufuli, 56, a minister for public works.
In the region, Uganda's 2011 elections were marred by claims or rigging and violence, including reports that six journalists were attacked in Kampala.
In Kenya, the 2007/8 post-poll chaos left more than 1,000 people dead and at least 650,000 displaced.
Latest police reports on Burundi stated more than a dozen people were killed in clashes on Monday and Tuesday, linked to President Pierre Nkurunziza's disputed third term.
– the-star.co.ke