Why Johnstone Muthama is so bitter with Uhuru Kenyatta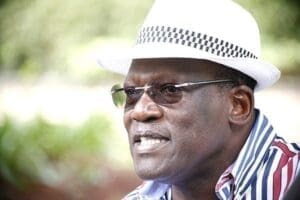 Senator Johnstone Muthama's recent daft utterances spring from a very deep well of bitterness.
It is a bitterness that was stoked in 2013 when Mr Uhuru Kenyatta turned upside down Kalonzo Musyoka's post-2007 political investment in PNU to succeed Mwai Kibaki as President.
Mr Muthama, who was and still is the former VP's main – financial – benefactor, has never got over it.
Others have since moved on, but the senator remains stuck in a rut. It is instructive the Wiper constituency of Ukambani is not too keen to be trapped in Mr Muthama's obsessive negative energy regarding Mr Kenyatta.
Indeed, the senator's tasteless remarks about the President and Ms Anne Waiguru have been received with a bit less enthusiasm among the Wiper following as compared to the ODM faithful.
A BAD GAME PLAN
The politics of bitterness can only leave one stranded in a cul-de-sac. It is not a strategy going forward.
If Mr Kenyatta was driven solely by that, he would not have hitched wagons with URP, knowing what happened in the Rift Valley in 2007/8.
Nor, for that matter, would Raila Odinga in post-1997 tried to edge up to the Nyayo system, under which he had suffered detention.
President Daniel arap Moi, too, would hardly have brought him on board, recalling all too well the events of 1982 and subsequent other happenings.
Believe it or not, Mr Kenyatta had his eye fixed squarely on the Presidency ever since he joined politics in 1997. Everything else in between was but a way-station.
Mr Kibaki had no way of stopping his candidature (as Mr Muthama presumably expected) in 2013, not after Mr Kenyatta had gained the status of a martyr among the Kikuyu following his ICC indictment.
Besides, the resources and political machinery at his disposal were nothing Mr Musyoka could hope to match, never mind that the latter had a very valid claim of his own on the Kibaki succession, not least as the incumbent Vice-President.
Faced with the two competing but unspoken claims, President Kibaki's instinct was to withdraw into himself as some of his retainers fumbled clumsily for an alternative way out.
It probably will never be known whether those who reached out to Musalia Mudavadi at the time were on a freelance mission.
In any case, the politics of endorsement, where a candidate waits for the benevolent laying of hands by the one he seeks to succeed, doesn't have a good record in this country. Just look at Moi and Kenyatta in 2002.
There is a very plausible argument I once heard that Mr Muthama may very well have handed Uhuru Kenyatta the 50-plus-1 fillip he needed to win the Presidency outright in 2013.
At Cord's final campaign rally at Nyayo Stadium in Nairobi on March 2 that year, the man from Kangundo as usual went off the rails by declaring that Jomo's son was not worth being his (Muthama's) cook, or even the late Otieno Kajwang's.
Reportedly among the segment of Mt Kenya voters who had committed to either Martha Karua or Peter Kenneth, a portion of them got so disgusted with Mr Muthama's remarks that they threw in their lot with Mr Kenyatta there and then.
LOCOMOTIVE WRECK
One can try to make some sense out of Senator Muthama's nonsense, but I get totally lost when it comes to somebody like Moses Kuria. He's here, there and everywhere, leaving incoherent puddles of poop all over the place.
The courts, of course, have the messy job of trying to pick it all up.
So the Gatundu guy was one of ICC "fixers"? How brilliant. I guess his constituents are very thrilled by the news. Maybe they can interpret for some of us what is this strange plan being cooked that we don't know.
All I can see myself is a fast-approaching, self-induced locomotive wreck. Sane heads would prefer to steer very clear of the oncoming crash.
nation.co.ke