France to pay fees for Garissa university terror attack survivors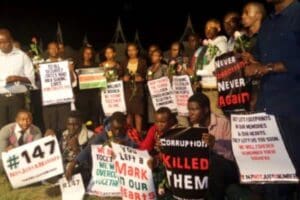 The French government will pay school fees for a year for 109 Garissa University College students who survived the April 2 al Shabaab massacre.
The students will also be given a living allowance, the French Embassy said, adding Ambassador Rémi Maréchaux will visit Moi University in Eldoret on Thursday.
Students who survived the attack in which 147 were killed and at least 67 others injured were transferred to the campus.
In a statement to newsrooms on Tuesday, the Embassy said Maréchaux will hand the aid in a show of solidarity to students who had not received any financial support.
"France and Kenya are facing the same enemy – fanaticism and extremism – that lead young French and Kenyans towards terrorism," the Embassy said.
"The handover of this contribution, which was a commitment by the French government, is a testimonial to solidarity between our nations in their ordeal and in the common fight against terrorism."
France pledged support for the students following the attack, over which several suspects have been arrested and detained pending the completion of investigations.
The suspects include Mohamed Surow, Osman Dakane, Rashid Mberesero aka Rehani Dida, Mohamed Abikar, Hassan Aden and Sahal Hussein.
President Uhuru Kenyatta said Kenya stands with France in the wake of a second terrorist attack in Paris last Friday night that left at least 130 people dead.
"Kenya stands ready to offer every assistance possible in this regard and will continue to relentlessly prosecute our war against terrorist groups and their support networks," he said.
The coordinated assaults, which began after 9:15 pm local time, saw multiple explosions and shootings at six sites across the city, restaurants, a soccer stadium and a concert hall.
– the-star.co.ke