Uhuru to hold trade, security talks in France and Germany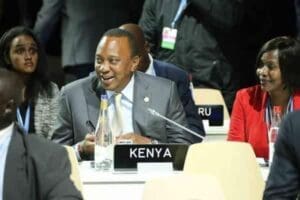 President Uhuru Kenyatta is expected to travel to France and later head to Germany next month, in what State House said on Thursday was to boost cooperation against terrorism and improve on trade.
At a press briefing in Nairobi, State House Spokesperson Manoah Esipisu told reporters the visits will be critical as Kenya seeks maximum cooperation against terrorism.
He said the President has been invited to France by his counterpart François Hollande between April 4 and 6th where the latest incidents of terror attacks will be discussed.
"Dialogue between the Heads of State will centre on matters of security, as well as trade, investment and tourism," Mr Esipisu said.
"The Presidents are seeking a strategic partnership that will stem the rise of violent extremism in Africa and the globe. The leaders will consider how to enhance existing intelligence sharing mechanisms and improve Kenya's security infrastructure," he added.
Both Kenya and France have faced terror incidents recently. In November, 130 people were killed in a terrorist attack in Paris near a football stadium. Islamic State (IS) terror group claimed responsibility.
In April last year, Kenya had faced the heaviest loss in a decade when Al-Shabaab stormed Garissa University College and killed 148 people.
This will be the second time President Kenyatta will be visiting France in under six months. In December, he toured Paris during climate talks, even though the trip at the time elicited criticism for making too many foreign trips that had included Malta and South Africa.
This year, President Kenyatta has travelled to Ethiopia, Djibouti, Israel, Ghana and Tanzania. But the State House Spokesman told reporters the number of trips should not be the issue, the results of trips should.
He argued each trip has a specific agenda, contributing to strategic objectives of the government, as well as securing "shillings in security cooperation, loans, investments, grants and other economic benefits."
"The President's trips are public and you can do the math. And while doing the math, compare that with other heads of State. Let's not be fixated with the numbers," he said.
"You can check all governments that are of significance in the global sphere and see how often their heads travel (abroad). The President's travels are business, not pleasure and they are aimed at meeting the growing needs of the Kenyan people," he added.
While on a tour of France, President Kenyatta is expected to discuss trade and tourism, the latter of which has been heavily affected by terror threats on Kenya.
His tour of Germany where he has been invited by German Chancellor Angela Merkel, will cover similar issues but will also include education, cultural and development matters.
"The President aims to build on the vital relationship between both nations through the pursuit of mutually beneficial initiatives," he added.
Germany has traditionally been the second highest source of tourists to Kenya. And last year, German airline, Lufthansa resumed direct passenger flights to Kenya after a 16-year absence.
Meanwhile, President Kenyatta will resume his new habit of working away from Nairobi in what State House said will be to get input from Kenyans.
After his tour of Europe, the President will travel to Embu, Laikipia, Trans Nzoia, Bungoma, Uasin Gishu and Machakos counties where he will also work from.
State House did not specify which dates he will spend in each of these counties but only confirmed that the weeks will be "busy.
-nation.co.ke