JOSHUA SANG DRAGS CAROLINE MUTOKO'S NAME IN HIS ICC CASE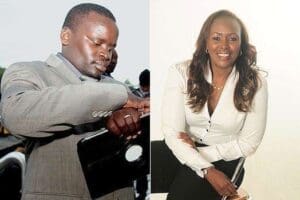 The International Criminal Court has been told how former radio presenter Caroline Mutoko allegedly disobeyed a government ban on live broadcasts at the peak of the 2007-2008 post-election violence.
Kenyan suspect Joshua Sang, through lawyer Katwa Kigen, told the court that Ms Mutoko was the only one listed in a report which confirmed that all other stations had suspended their live programs.
"Notably, the article listed only one radio station, Kiss FM (not Kass FM) as continuing to broadcast a phone-in program, but that the program's host Caroline Mutoko was asking listeners not to cite Kiss FM as the source of reports so as to not get in trouble," said Mr Sang.
Ms Mutoko was among the most popular radio presenters at the time, as host of The Big Breakfast show at Kiss FM.
Mr Sang made the revelations in his no case to answer motion which was made public late last week.
ACQUIT
He has asked the court to acquit him of the charges of crimes against humanity are facing him together with Deputy President William Ruto.
He argues that the prosecution has failed to prove his criminal responsibility to the violence that was witnessed in the Rift Valley region.
In his motion, he quoted a newspaper article by Reporters sans Frontiers titled "Kenya: Government Imposes 'Dangerous and Counter-Productive' News Blackout, dated December 2007.
According to Mr Sang, the report confirmed that local broadcast journalists were afraid that police would raid their stations and order them to close if they disobeyed the gag order.
This was after the then Minister for Internal Security, the late John Michuki, had announced a ban on live broadcast towards the end of December 2007, through the first week of January 2008.
-nairobinews.nation.co.ke