Make or break for DP Ruto as assembly decides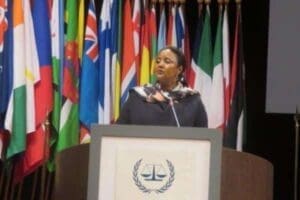 The Assembly of State Parties (ASP) is expected to make a decision with far-reaching consequences on Deputy President William Ruto and journalist Joshua Sang.
The assembly will today decide on the Kenyan application not to apply Rule 68, which allows the use of recanted evidence in the International Criminal Court (ICC) cases facing Messrs Ruto and Sang.
Wednesday, Kenyan officials led by Foreign Affairs Cabinet Secretary Amina Mohamed were locked in meetings of a special committee of the ASP Bureau that is expected to communicate its decision to the ASP plenary either rejecting, adopting or amending the Kenyan proposal.
Agreeable language
"Painstaking negotiations are underway to reach consensus on the texts of Kenya's proposals to ASP. There is broad agreement on issues. Challenge is reaching mutually agreeable language of texts," Ms Mohammed tweeted Wednesday.
She said that once consensus is reached, texts will be forwarded to the ASP Bureau and subsequently to the ASP for consideration and decision.
On Tuesday, Kenya submitted text to the ASP bureau that it wants included in the final resolution to be adopted by all member states of the ICC.
The text proposed by Kenya partly read: "The assembly reaffirms that the intent of the 12th ASP ….. that the amendment to Rule 68….would not apply in matters already before the court. Rule 68 was adopted, entered in force and took effect from November 27, 2013."
Wednesday, there was another one-and-a-half hour session of informal consultations in which Kenya had a chance to further lobby countries to support the withdrawal of recanted testimony against the accused, as well as a request to the ASP to appoint an independent team to audit the prosecutor's witness recruitment processes in Kenya.
During discussions in the plenary last Friday, most European countries argued that reversing Rule 68 about recanted evidence would sound a death knell for the independence of The Hague-based court.
ICC Chief Prosecutor Fatou Bensouda was allowed by ICC trial judges to use prior statements of five witnesses who recanted their evidence in the past.
This move has been strongly opposed by Ruto and Sang as well as the Jubilee government as a miscarriage of justice.
-standardmedia.co.ke