Police arrest suspects planning attacks in Nairobi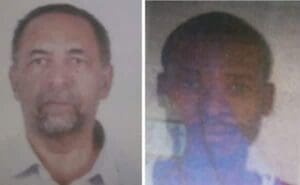 Police have arrested two Kenyans believed to have been spying for and recruiting on behalf of an Iranian terror group.
Inspector General of Police, Joseph Boinnet said the two, Abubakar Sadiq Louw, 69, and Yassin Sambai Juma, 25, were conspiring to mount terror attacks against western targets in Kenya.
He said the two have admitted to have been planning to stage attacks on hotels in Nairobi, frequently used by tourists, businessmen and diplomats.
"Upon interrogation, Abubakar Sadiq Louw admitted recruiting young Kenyans to spy and mount terror attacks in Nairobi," Mr Boinnet said.
Sources indicate that Abubakar was arrested on Thursday October 29, after a long intensive police investigation.
Yassin Sambai, according to Mr Boinnet, was recruited by Abubakar who divulged to the investigators that he arranged for Juma to travel to Iran and introduced him to the Qods Force contact, Mojtaba Ghanbarian famously known as "Parsa" who gave him a set of tasks and Western targets for future terror attacks in Nairobi. Juma who police say has undergone military training in Iran, was arrested by police on November 19.
Abubakar, Mr Boinnet said, has also recruited several other youth, with false promises that they would be awarded scholarships.
The revelation by Mr Boinett comes just a day after he sounded an alarm over the theft of two diplomatic number plates from vehicles at the coast.
The number plates, 45 UN177 K and 45 UN130 K, were stolen from United Nations' vehicles while they were parked in Kilifi and Mombasa respectively.
"Only the front number plates were stolen leaving the rear plates which were much difficult to remove," Mr Boinnet said in a speech read on his behalf by Kenya Police Spokesperson, Charles Owino.
He said the police held a strong opinion that the plates may be used in attempts to access security areas and key installations by terrorists.
"Vehicles bearing such registrations should be stopped with a lot of caution, be detained and occupants interrogated considering the fact that the recently experienced terror attack in Mali was aided by the use of vehicles bearing diplomatic plates," he said.
On Saturday, Mr Boinett said no one had been arrested in connection to the theft of the plates but police and security guards had been placed on high alert.
He said an extensive investigation by the Kenyan Security Services, which included reaching out to other services in Africa, has enabled investigations to determine that "Parsa" has visited several countries in the continent in the past.
Mr Boinnet said the police are working closely with the Muslim community to determine threats and locate anyone who may be targeting Kenyan interests.
"These people are being monitored and will be dealt with at the discretion of the police and in accordance with the law," the police boss said at a Press Conference Saturday morning.
In January 2012, two Iranian operatives Ahmad Abolfathi Mohammad and Sayed Mansour Mousavi, were arrested with 22kg of explosives. The two men, were tried and convicted of committing acts intended to cause serious harm, including planning attacks in Kenya. They were both sentenced to life in prison.
In October 2014, International Criminal Police Organization, Interpol, issued an alert over an Iranian national in Kenya, said to have been on a mission to try and free the two.
Through its officials in Nairobi, Interpol claimed that attempts are being made to have the two Iranians released "by all means possible".
The two convicts who were sentenced in May 2013, were working for the Qods Force, an elite Iranian special forces unit that is one of the most highly trained and highly secretive in the world.
They were detained by Kenyan security forces in June 2012, on being arrested around Mama Ngina Park in Mombasa with the explosives which police said, would have caused massive destruction.
Although Mr Boinnet said that police are working with international investigators to investigate whether the two Kenyans he said had been arrested worked for the Iranian Government or not, he reiterated that their plans had been known and that police were looking for their other accomplices and recruits.
The police boss said the two are in an undisclosed police cell and will still be interrogated, in a bid to find others who may still be free and also to establish their mission. They will be arraigned in court once police are through with their investigations.
Elsewhere, the Interior Ministry yesterday also stated that a British Wanted terror suspect may have sneaked into the country.
Police asked members of the public to provide any information that could lead to the arrest of Malik Yassin suspected of being one of the Al Shabaab foreign fighters.
Another Al Shabaab foreign fighter, Thomas Evans was killed in a foiled attack on Buare Kenya Defense Forces Camp in Lamu.
-nation.co.ke