State House forms team to fight graft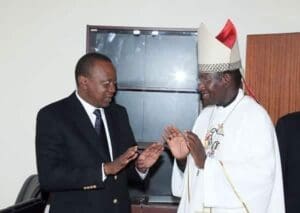 President Uhuru Kenyatta has formed a committee to formulate strategies on fighting corruption.
The committee will comprise the Executive, several ministries, departments and the private sector.
Mr Kenyatta formed the committee Friday when he met members of Kenya Private Sector Alliance at State House, Nairobi.
The meeting was also attended by Deputy President William Ruto.
The committee is made up of Chief of Staff and Head of Public Service Joseph Kinyua, cabinet secretaries for Treasury, Industrialisation, Interior and ICT.
Other members are Ethics and Anti-Corruption Commission CEO Halakhe Waqo and representatives of the Kenya Revenue Authority and Kenya Bureau of Standards.
The rest will be drawn from the two houses of parliament and the media.
Kepsa will nominate its members to the team, which has a week to come up with a strategy and plan to overcome corruption.
Treasury CS Henry Rotich will head the committee.
"Whatever the team recommends is what we will implement," the President said.
Mr Kenyatta added that recent reports on the vice had portrayed the country as irredeemably corrupt.
The President said corruption was not about individuals but reclaiming the reputation and integrity of Kenya.
"It is about our future as a country. Our dignity and integrity need to be protected and preserved," he added.
Mr Kenyatta said corruption was frustrating many government projects.
Mr Waqo had earlier briefed the meeting about the problem.
He said 70 per cent of the reported cases concerned procurement while 20 per cent were bribery related.
He said 286 corruption cases were being handled by courts — the largest number in the country's history, "a clear sign that the war against the vice had been enhanced".
"This shows we are working although adjudication is slow on corruption," he said.
-nation.co.ke