Subway in Busia? MCAs Spotted in Tokyo Studying Subway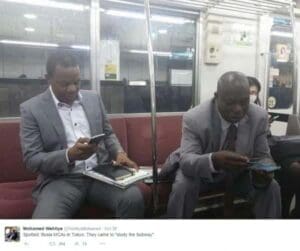 It's time for another story on how public funds are being misused.
Busia Members of County Assembly are currently in Tokyo, to among other things, 'Study the Subway'. Respected financial expert and columnist Mohamed Wehliye posted this picture on Twitter showing two of the members in a train.
These are not the first MCAs to waste money on useless trips abroad. I doubt a subway in Busia will ever be a real need in a hundred years, but don't be shocked, memories of those MCAs who went to visit Jesus birthplace in Israel are still fresh in my mind.
– nairobiwire.com