Town in Kenya where you will not find alcohol or cigarette fumes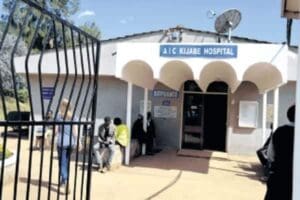 Kijabe is the destination of choice for purists. A canopy of cedar trees on both sides of the road is a sight to behold. Natural beauty of indigenous foliage only adds to the eye-catching magnificence of the old town.
Sitting at the base of a small valley, a gust of fresh air is invigorating, perhaps due to the nearby vast forest.
The plants are an attribute of the missionaries who found a home here.
The 10-kilometre drive to Kijabe town, off the main Nairobi-Naivasha highway, though nerve-wracking, is a thrill. The town hosts the biggest missionary school in Africa — Rift Valley Academy.
The institution was built for the children of the missionaries, who had found a 'second home' there.
Nearby, is the AIC Kijabe Hospital.
Kijabe was first established by missionaries from the African Inland Mission as an outpost in 1903.
The first hospital at Kijabe, Theodora Hospital, was established in 1915.
For Christian "prayer warriors", the reclusive Kijabe offers refuge.
The missionaries owned more than 3,000 acres of land around Kijabe but later sold half of it to the local people.
Buyers were strongly advised against cutting down indigenous trees, and it is evident they have religiously obeyed the instruction. Some of the trees are more than three centuries old, including the rare olive tree.
Among the first buyers was former broadcaster Timothy Kamau, whose powerful voice reverberated in several radio stations over more than three decades from African Inland Church's Bibilia Husema Studio Kijabe.
His pre-recorded Christian programme was aired on African Broadcasting Service. His Wimbo Niupendao programme was an instant success throughout East Africa after hitting the airwaves in 1961.
A bedrock of Christianity, smoking and taking alcohol is alien in Kijabe.
There's an unwritten rule that prohibits drinking and smoking. For a start, no bars are found in the area. Shop owners too do not stock cigarettes.
Woe unto you if you are founding smoking, according to Mr Pharis Mukui who has lived in the area for many years.
"It is very easy for you to be whacked. It doesn't matter whether you are a stranger or not," he said.
He says even at the usually chaotic matatu termini, no one dares smoke. "For the more than 30 years I have lived here, I have never spotted a pub," says Mr Mukui.
It is said that those seeking to set up businesses here must enter into an agreement stating that they will not sell alcohol or cigarettes.
The pilgrimages by the missionaries may have ended almost a century ago, but their footprints are uncharacteristically visible.
-nation.co.ke