Drama as Former Minister Fights With Priest at Burial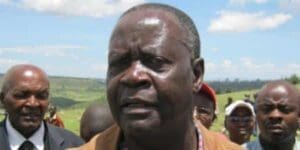 Former Minister Noah Wekesa clashed with catholic priest, Father Crispin Werunga, at a burial after he disobeyed the Father's directive on how the ceremony would be conducted.
Wekesa reportedly started talking politics during the burial of one Roger Kiangasi, who passed away in the US last month, yet Father Werunga had directed those in attendance not to do so.
"I told you not to bring politics here but you have gone ahead to introduce it. Your time is up and I'm not going to let you continue and waste time," the priest stated.
The Sitatunga Parish Father went ahead to grab the microphone from the former Minister who was adamant, to abandon his political speech.
"Father you have no right to stop me from addressing mourners. This body belongs to us," Wekesa was quoted by the Standard.
Wekesa was jeered by the crowd as Father Wekesa managed to take control of the programme.
Water and Irrigation Cabinet Secretary Eugene Wamalwa had also attended the burial which took place in Kapsara village
-kenyans.co.ke