Moses Wetang'ula named in BAT mega bribery scheme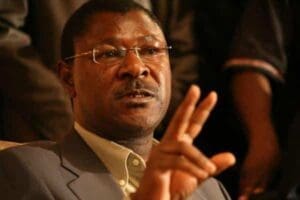 Bungoma Senator Moses Wetangula has been mentioned in a BBC investigation into bribery claims at British American Tobacco.
According to BBC's Panorama programme , Wetang'ula as Trade minister in 2012 was one of the MPs who allegedly received 'favors' from BAT.
In July 2012, Adell-Owino, BAT lobbyist, requested the purchase of a business class ticket to London for Wetang'ula.
The email said he would be "hosted at Globe House" which is BAT's London headquarters.
Adell-Owino asked that the transaction should be "paperless" and there should be "no receipts if any in his (Wetang'ula) name."
Wetang'ula however, denied knowledge of the emails when contacted by Panorama. Wetangu'la told BBC he was "shocked" and "upset" and would take legal action against anybody circulating "such a crude rumor" against him.
"I did not receive any ticket or any money. I never had dealings with BAT," he said.
Adell-Owino "categorically denied" involvement in bribery and said BAT "mistakenly believed" the payments were bribes.
But according to BAT, purchase of the plane ticket was one of the series of "unlawful bribes".
The investigation found BAT illegally paid politicians and civil servants in countries in East Africa.
The bribes were given to counter United Nations effort to reduce the number of tobacco-related deaths
The payments were revealed when a whistle-blower shared hundreds of secret documents to BBC.
– the-star.co.ke