Wetangula refutes BAT bribery story, demands immediate apology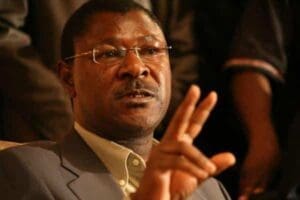 Senate Minority Leader Moses Wetangula has discredited a British Broadcasting Co-operation (BBC) alleged investigative exposure linking him to a bribery scandal to interfere with anti-smoking laws.
Senator Wetangula yesterday at Parliament Building, flanked by over ten legislators, including National Assembly Deputy Minority Leader Jakoyo Midiwo (Gem) and Deputy Minority Whip Chris Wamalwa (Kiminini) said the British American Tobacco (BAT) took offense with the bribery claims by the BBC and a section of local news outlets, terming it an erroneous reporting.
He said those serious allegations had been made against his person to the effect that BAT funded his trip to London Olympics in 2012 and warned that he was not going to take the matter lying down.
Further he censured the media report on claims that, while in United Kingdom he was hosted at Global House-BAT's UK headquarters.
Wetangula denied knowledge of the existence of Globe House, nor its address or location.
"I find the allegation that the trip was funded by some private corporate nauseating, unfortunate, scandalous, malicious and slanderous to the extreme. For the record, I have no dealings of any nature whatsoever with BAT and Julie Adelle-Owino, the officer said to have facilitated the transaction, has categorically denied ever pro0curing a ticket for me," noted Wetangula.
Wetangula, who is also Coalition for Reforms and Democracy (Cord) co-Principal, instead maintained his innocence in the entire bribery syndicate and demanded an apology from the media channels that linked him to the saga.
"The BBC, the Standard and several other media outlets for reasons only known to them, have generated the malicious rumour to besmirch my reputation and character. The story purports to source its authority from pseudo emails whose authenticity cannot be verified," he criticized the media reports.
He continued, "To call this investigative story casts a big shadow on the quality and profession of journalism. The local media is only using this libelous story from BBC to carry their favorite story, the so called IEBC plans to remove my name from the voters' register."
Wetangula has now directed his lawyer, Senior Counsel Senator James Orengo (Siaya), to issue a 48 hour demand notice to the media houses that carried the story, to retract and apologize, failure of which, he will have his day with them in court.
The BBC, through its investigative programme Panorama, has accused BAT of bribing senior politicians, public officials and even people working for a rival company in East Africa.
BAT is UK's fifth biggest company and last year it sold 667 billion cigarettes and made Sh693 billion (£4.5 billion) profit. It has big operations in Kenya.
-standardmedia.co.ke