Corridors of Power: Ruto buys lunch for his staff almost daily.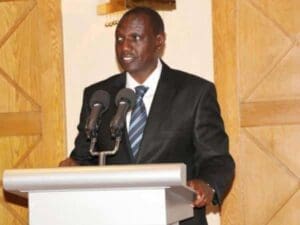 Deputy President William Ruto is a generous man. He buys lunch for his lieutenants when he is in Nairobi, almost on a daily basis. These lunches are a forum where the DP and his close allies review media coverage and identify their "friends and enemies" and laugh at who they attacked in the media. We are told that some of these close confidants have now taken advantage of the lunch meetings to carry all manner of rumours to the DP as they play sycophant.
****
Is insecurity in Northeastern artificially created by local leaders for personal gain? An MP from the region was overheard at the poolside of a top Nairobi hotel asking a senior administrator over the phone to authorise the recruitment and arming of 500 reservists, and protesting that the 300 authorised were too few. A few minutes later, the MP called someone else and ordered that trouble be created because the government was refusing to provide them with enough guns. There is fear that these guns sanctioned by the state are being used to attack neighbouring clans.
****
A cabinet secretary has been complaining bitterly about the ranking the Star gave her at the end of last year. The CS believes she deserved a better grade. In fact, she is convinced that she was the best performing minister last year. She told whoever cared to listen that she will formally protest to the Star for "dimming and rubbishing her high profile achievements".
****
It is a season of defections and delegations. Just days after delegations from across the country thronged the home of the Deputy President, another one is in the offing, this time from Meru county. Tigania East MP Mpuru Aburi is planning to deliver all ODM elected officials to William Ruto when he returns from the Hague. The MP, who has always styled himself as the Raila of Meru, met a group of ODM officials from Meru and was trying to fix an appointment with the Ruto group at a hotel on Loita Street. In spite of working hard for the party, he was overheard saying he has never received his due recognition from the party honchos.
-the-star.co.ke