Marabou Stork: The Picture That Got Nairobi Chicken Lovers Nauseous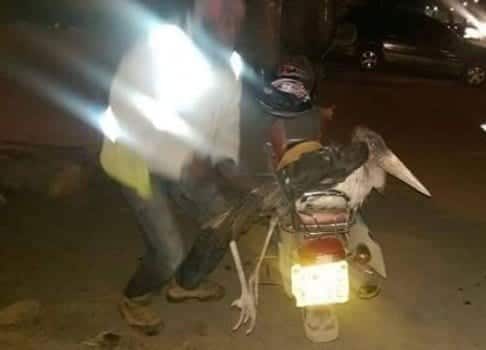 Nairobians have reacted with shock and dismay after a picture purporting to show a boda boda rider delivering a dead marabou stork to unscrupulous city restaurant operators was posted on Facebook this week.
The image was posted by a Facebook user called Jarunda Jaluth Mambobiad on January 11. It was captioned: "This was last night. This man & his group supply these birds to hotels right in the CBD of Nairobi. These birds are called Marabou Stork. You will see them roosting on the trees opposite Nyayo Stadium or at Dandora dumping site. Be very very careful where you eat your chicken stew in town."
The Nairobi News could not independently authenticate the allegations of the picture that has been shared 1,000 times and attracted tens of comments.
Kiragu Mwaniki said: "Simple thinking… If that's so we just need less than one hour to bring them to extinct considering the rate at which we eat chicken."
Diana Awuor Magak actually claimed to have witnessed the wild bird being hunted: "While back I took a cab from the airport when we fikad that tree the birds were many and I remember what I said I can remember laughing over what he said. "Wa Nairobi wamependa kukuchoma kwa mahoteli licha ni hizo ndenge ndio hao hula" lol today Jarunda Jaluth Mambobiad iconfirm….eroo (sic)," she wrote.
REACTIONS
Davis Son Jidraph also weighed in saying, "This (sic) Birds are very poisonous, even dogs n hyenas can't feast on it, even if it dies can't smell, so may b this bird is for restocking certain place or park" with Kimani Chege Gabriel adding: "Hio kikuku no kama 30kg whose source cost ( from the hunter who can be paid 300 alafu boda 100 coz no risky business) u can sell it as boneless chicken, quarter portion with vegetable rice @ 450 times 120 quarters = 54000 pap! Minus cost ya kikuku plus rice and verges, labour and fuel…..30k net. So, one kikuku inalipa rent ya restaurant…. KUKUnomics 101 (sic)."
Chris Nakamet said: "This is an old trade, restaurants near buses that ply Mombasa Kampala have been in this for long, the neck and part of the body I hear has the acidic element rest is delicacy for the innocent mwananchi."
Lev Manoti wrote: "I ate something like chicken very bitter in (restaurant's name redacted) one day on complaining, I was told to leave it and never go back there. I think your right (sic)."
But Jim Haukins was unconvinced writing, "That's a bullcrap story from this guy craving for attention. Why would anyone hoping to sell meat display a marabou!!? Grow up Mr" with Geoffrey Nganga also supporting him: "Since nobody has fallen sick from those special Samosas and Chicken stew. Keep up Maribu Stock hunter."
Marabou Stork: The Picture That Got Nairobi Chicken Lovers Nauseous