Moha Jicho Pevu to contest for the Nyali seat in 2017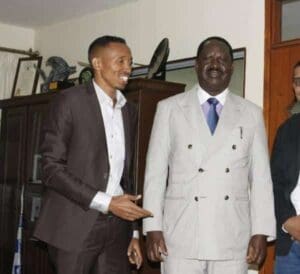 Investigative journalist Mohamed Ali is set to enter politics by taking a stab at the Nyali parliamentary seat in the 2017 General Election.
Popularly referred to as Moha of Jicho Pevu, it is understood that the journalist will be contesting the seat on an Orange Democratic Movement (ODM) ticket.
Yassim Juma, a colleague and  close friend who is also a journalist said through hisFacebook page that it is now official the popular journalist is set to join politics.
"Moha Jicho Pevu to contest for the Nyali constituency seat in 2017. He will be contesting on an ODM ticket," said Yassim Juma.
He went on to explain that Moha's intention to join politics has been fueled by a quest to pursue justice for the oppressed.
The seat that Moha targets  is currently held by Hezron Awiti who was the subject of a lead poisoning investigative story done by Moha Jicho Pevu sometime in 2015.
The waste from the lead smelting factory is said to have  killed dozens and poisoned hundreds in the village of Owino Uhuru situated next to it.
Attempts by Tuko.co.ke to get a comment from Moha did not succeed as calls were not picked and messages to his number also not responded to.
It is to be remembered that Moha recently expressed publicly his admiration for opposition leader Raila Odinga.
In an article published by The Standard on Friday, December 11 2015, Moha showered the former prime minister with praises likening him to Tanzania's new President John Magufuli.
"Sura ya Magufuli Kenya ni Raila Odinga. Kenya sasa yahitaji Raila kuchukua ushukani na kuikomboa Kenya kutoka kwa vijana toka kwa janga la Jubilee. Kukwamua taifa toka kwa uongozi ulioibaka demokrasia ya wakenya na Kenya kwa jumla… Huyu ndiye Magufuli wa Kenya mwaka wa 2017 (Raila is Kenya's Magufuli. Kenya needs Raila to take the wheel and save the country from the Jubilee scourge)," he wrote
In the same article, he claimed that President Uhuru Kenyatta's administration does not care about Kenyans at all.
The journalist has been at loggerheads with top Jubilee officials, especially Interior Cabinet Secretary Joseph Nkaissery, who see him as a threat to national security.
On December 9, Nkaisserry accused Moha  of having the habit of permanently putting the security organs of this country at the expense of Al-Shabaab.
"He (Moha Jicho Pevu) has been portraying the security in the negative and the Al-Shabaab in the positive. He shows Al-Shabaab training and our people in the opposite," the minister said.
Moha once claimed that top officials in the Jubilee government wanted him dead due to his investigative pieces that portrayed the government in bad light.
-http://tuko.co.ke/