Robert Alai charged over offensive Twitter post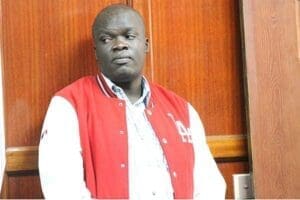 Blogger Robert Alai has been charged with posting an offensive message on Twitter against anti-corruption agency boss Halakhe Waqo.
The blogger is alleged to have claimed in the post that the Ethics and Anti-Corruption Commission chief executive officer had a fake University of Nairobi degree, which he used to ascend to office.
Mr Alai, represented by lawyer Harun Ndubi, denied that he committed the offence on November 18 last year and was released on a cash bail of Sh30,000 pending the hearing of the case on March 16.
He is alleged to have used the Twitter account [email protected] to post a message that read: "How do you expect EACC to arrest anyone for corruption when its head (Waqo) used a forged UoN degree certificate to get into his office".
The prosecution alleged that Mr Alai knew that the statement was "false" and was intended to annoy Mr Waqo.
If found guilty, Mr Alai will be liable for a fine of Sh50,000.
Mr Ndubi asked for copies of witness statements and a copy of a letter of application the complainant used to apply for the job.
-nation.co.ke