Wetang'ula cannot be removed from voters list without conviction – Orengo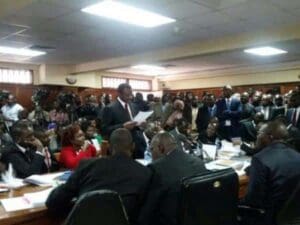 Moses Wetang'ula cannot be deregistered as he has not been convicted of voter bribery, his lawyer told the IEBC on Tuesday.
The Bungoma Senator was accused of bribing voters in the March 4, 2013 election and could be deregistered and barred from elections for as many as 10 years.
Lawyer James Orengo said at the Milimani law courts that it would be wrong to punish Wetang'ula for an offence the court shied away from.
"The Supreme Court did not find any criminality in my client. He has not been convicted of an election offence hence he cannot be barred," he said.
"You can commit an offence but not be convicted of that offence," he further said, noting a person is disqualified from being elected if he is of unsound mind.
He also said only a judge make a ruling of a conviction while the jury can only determine guilt or innocence.
Orengo said the electoral court that adjudicated Wetang'ula's case is not competent enough to hear the matter, adding this is why the DPP was roped in.
He also noted that the CID found Wetang'ula criminally culpable after investigating the voter bribery allegations but that DPP Keriako Tobiko said evidence was insufficient.
He said Tobiko reopened the file but that the CID made a similar finding. But he said it later emerged investigators made conclusions without carrying out a probe and that the DPP closed the file.
Orengo further said Wetang'ula should be spared as his political rights under section 38 of the constitution would be violated.
Section 3 (a) of this article of the constitution says every adult citizen has the right, "without unreasonable restrictions" to be registered as a voter.
Section (c) notes the right "to be a candidate for public office, or office within a political party of which the citizen is a member, and, if elected, to hold office".
Orengo presented this argument based on what he termed inconsistencies in section 87 (3) of the Elections Act that were used to declare Wetang'ula guilty of treating and bribery.
IEBC chairman Isaack Hassan appointed a team to offer the Senator an opportunity to show cause as to why his name should not be struck off the voter register.
Wetang'ula is expected to explain to the IEBC committee why his name should not be removed from the voters list.
Orengo made more submissions when the afternoon session of the hearing resumed at 2pm.
The IEBC team is being chaired by commissioner Thomas Letangule and includes commissioners Lilian Mahiri-Zaja, Mohamed Alawi Crispin Owiye and Moses Kipkosgei.
The team is expected to file a report on January 20 after which a plenary of IEBC commissioners will determine Wetang'ula's fate.
Cord leader Raila Odinga, Kakamega Senator Bonny Khalwale, Mbita MP Millie Odhiambo, Cyrus Jirongo were some of the politicians present.
-the-star.co.ke