All Kenyans abroad only! Own a £1,000,000m bank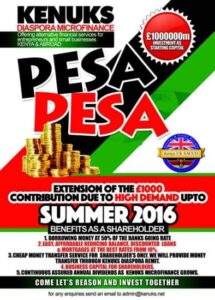 Be part of KENUKS Bank which is now open for subscription to all Diaspora residents. We need 1,000 members only come first basis as permanent shareholders, to contribute £1,000 only by November 2015 .Refund- NO but you can transfer your shareholding to someone else .We need to raise £ 1000 000 /=   one million pounds invest as our starting capital.   Pay directly to KENUKS GBP Cooperative bank account in Kenya account 0314 5128 6398 00 reference Microfinance send you proof of payment to [email protected] you could pay by instalments.
Benefits as a shareholder is needed money at 50% of the banks rate going rate , Easy cheap reducing balance discounted Loans & mortgages at the best rates of from 10%,  Cheap money transfer service for shareholder's only Money transfer through KENUKS DIASPORA REMIT, Business capital  for shareholders.  Continuous assured annual dividends forever as KENUKS Micro~Finance grows.
Don't  be left behind Kenyans abroad are buying in this project. Fast come fast serve basis you have until end November 2015 to make pay.
-Misterseed.com