Auditor General Ouko denies hiring many Luos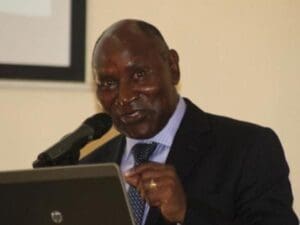 THE Office of the Auditor General has sought to fight off accusations of favouritism in its ethnic composition, denying it is gatekeeping for governors allied to the opposition.
The OAG described claims carried in yesterday's edition of the Star as "a selective and dishonest distortion of facts" by those out to escape accountability in the use of public funds.
"Claims of Luonisation of OAG are aimed at diminishing the status and role this office plays in calling for accountability in the utilisation of public resources," OAG said in a statement yesterday. I
It was signed by senior Communication manager Wilfred Marube.
The lead story in the Star yesterday placed Auditor General Edward Ouko in the spotlight on claims that top positions in his office are controlled by members of his Luo ethnic community.
A leaked internal document obtained by the Star indicates that at least 28 senior managers at the OAG are Luo whom Ouko has placed in strategic positions to check adverse audits from the Cord-controlled counties.
But the OAG clarified there are three senior management roles that fall under three different categories: Deputy Auditor General, directors and senior managers who head departments, divisions and sectors, respectively.
Of the six deputy auditor generals, only one is a Luo. The remaining five, according to the clarification, are ethnically distributed thus: Kamba, Kisii, Meru, and Kikuyu.
The office has 23 directors, of which five hail from the Luo ethnic group. Nine are Kikuyu, three Meru, three Kisii and one each from the Luhya, Kamba and Kalenjin communities.
Of the 33 senior managers, nine hail from the Luo ethnic group, or 28 per cent of all staff in that category. Eight are Kikuyu, or 24 per cent, six from Kisii (18 per cent) and four each from the Kamba (12 per cent) and Luhya (12 per cent) and one each from Somali and Kalenjin (3 per cent).
The counties are served by nine hubs, with each hub headed by a director or acting director. The nine are Eldoret,
Embu, Garissa, Kakamega, Kisumu, Mombasa, Nairobi, Nakuru and Nyeri.
An officer from the Luhya ethnic group is in charge of the Eldoret hub, Embu (Kikuyu), Garissa (Somali), Kakamega (Luo), Kisumu (Luo), Mombasa (Kikuyu), Nairobi (Kikuyu) Nakuru (Kikuyu) and Nyeri (Kamba).
Marube said the OAG audit process is informed by International Standards for Auditing and International Financial Reporting Standards.
-the-star.co.ke