I am worth Sh275m, declares KPA boss Gichiri Ndua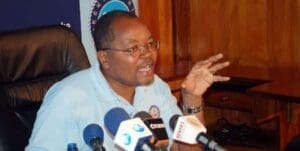 MOMBASA: Kenya Ports Authority (KPA) boss Gichiri Ndua has assets worth Sh275 million.
The managing director owns land in Mombasa, Kajiado, Kilifi and Karen in Nairobi. His other assets include a Toyota Prado worth Sh5 million and apartments worth Sh19.5 million, according to wealth declaration documents submitted to the Public Service Commission (PSC) last November. Catherine Muthoni Gatere, KPA board and legal services general manager, is worth Sh85.4 million excluding her salary, allowances, dividends, and income from her rental properties.
Mr Ndua and Ms Gatere are among the few public servants that have submitted their wealth and assets documents as required by law.
Last September, PSC Chairperson Margaret Kobia said public officers would be required to disclose details of their income, assets and liabilities.
Ndua, who holds two bank accounts, has been the ports boss for about five years, but has worked for the port in various capacities for decades. The KPA boss indicated his declaration covered his total earnings and wealth for the period between November 1, 2013, and October 31, last year. According to the handwritten forms, Ndua owns a plot in Nairobi worth Sh50 million and another 6 acres in Kajiado worth Sh30 million.
He also owns 19 acres of land at Kabazi/Rugongo worth Sh47.5 million and another 0.25 acres at Sheikh Khalifa in Mombasa worth Sh12 million and 2.25 acres at Ngenda, Kimunyu worth Sh6 million.?
SH33M IN ACCOUNT
Ndua also owns plots of land in Utange valued at Sh20 million, Mombasa and Mtwapa in Kilifi, besides fixed deposits of Sh33 million in a Kenyan bank. Ndua also has
shares and investments in trusts equal to Sh29 million, and apartments which he can sell for Sh19.5 million.?
The two land properties in Mtwapa are estimated to cost Sh20 million and Sh3 million.
"I solemnly declare that the information I have given in this declaration is, to the best of my knowledge, true and complete," Ndua signed off after indicating he has earned a gross salary of Sh24 million in two years and received Sh800,000 in dividends. He also said he earned money from the sale of agricultural products.
In Gatere's forms, she declared that she owns property in Mombasa's Nyali estate valued at Sh36 million and another in Shanzu, Mombasa worth Sh20 million.? She said she has property in Naivasha, a farm in Kilifi, Kisauni in Mombasa and a property in Nairobi's South B estate valued at Sh6 million.
She owns a Toyota Harrier worth Sh2.5 million and shares in two Kenyan banks, and a gross salary of Sh9.62 million yearly. Gatere receives Sh200,000 in rental income monthly and earns Sh300,000 in dividends annually and Sh100,000 per year.
-standardmedia.co.ke