Matsanga Condemned After Calling Kenyans 'Dogs'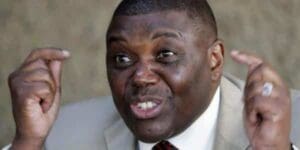 Outspoken Ugandan activist Dr David Matsanga was on Wednesday roasted on Twitter after spewing insults on a section of Kenyans through his twitter handle.
Matsanga who has been in Kenya for a while now, sparked rage among Kenyans on twitter when he said: "A group of Raila's backing dogs have gone on twitter asking me to vote in Uganda. I don't want to rig because i did not register."
The advocate's remarks were not taken kindly as he continued with his abusive statements on his timeline.
"A group of misled CORD Zygotes have taken on Twitter to ask me to go and vote but they have not asked whether I registered or not I will," another tweet read.
Some Kenyans called on the Inspector of Police and  office of the Director of Public Prosecutions to delve into the matter terming it 'hatespeech'.
-kenyans.co.ke