Ruto Wins Big as ICC bars use of recanted evidence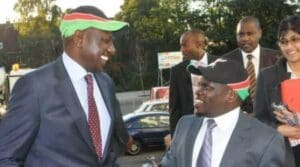 KENYA's efforts to save Deputy President William Ruto from the ICC paid off yesterday, with the Appeal judges ruling that recanted testimony cannot be used against him.
The judges reversed a decision of their Trial Chamber colleagues, saying that the use of the repudiated testimony would be detrimental to Ruto and his co-accused Joshua Sang's rights.
The Appeals Chamber said that the trial judges used the amended Rule 68 retroactively as the case against Ruto and Sang had already started.
The ruling is a major blow to ICC Prosecutor Fatou Bensouda, as among the statements in contention is one by a star witness of hers who refused to testify before the judges.
In her request for the admission of the statements in April last year, Bensouda said the prosecution would be deprived of critical evidence necessary to secure a conviction if they are disregarded.
In her application, Bensouda also said that the witnesses recanted their initial accounts due to interference from associates of Ruto.
The Appeal judges added they also found that the application of the rule would disadvantage Ruto and Sang as they would not be able to cross-examine the witnesses.
"We find that the prior recorded statements could not have been admitted under Rule 68 before the amendment. The application of the rule thus affected negatively the rights of Mr Sang and Mr Ruto," Judge Piotr Hofmanski summarised the judgment on behalf of his colleagues.
He added that the trial judges erred in law by applying the rule retroactively as well as admitting evidence that could not be cross-examined by the accused.
Judge Hofmanski also said that just because the recanting witnesses testified, it does not mean that the defence cross- examined their prior recorded statements.
Kenya has used all its diplomacy channels, including rallying the African Union, to force the Assembly of States Parties to reaffirm its decision that the rule should not be used retroactively.
The Trial judges allowed Bensouda
-the-star.co.ke