Uhuru irks Kenyans with Museveni comment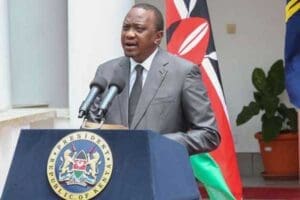 President Uhuru Kenyatta on Saturday night made an unusual step of congratulating, then received stick for it, his Ugandan counterpart Yoweri Museveni in a controversial election victory.
He was followed immediately by Burundi's Pierre Nkurunziza whose own third term sparked violence last year, but who said he was sending "warmest congratulations" to President Museveni's "well-deserved" re-election.
It was the first time President Kenyatta had been so quick in acknowledging election results, even as other leaders in the East African region stayed away from Ugandan politics.
"I am very pleased to congratulate His Excellency President Yoweri Museveni on his re-election as President of the Republic of Uganda. The people of Uganda have spoken, and they have spoken very clearly.
We respect their choice of President Museveni," President Kenyatta wrote on his Facebook page on Saturday evening, hours after the Ugandan Electoral Commission declared Museveni the winner.
"Kenya values its close friendship with Uganda. That friendship is founded on a common history, a common culture, and common interests. We look forward to continuing the work that both our nations have already done, together and in concert with the EA Community, the AU and IGAD.
"He and Uganda can count on my support, and my friendship, as well as that of their brothers and sisters in Kenya," wrote President Kenyatta.
After a tense campaign, a jumbled election and arrest of Opposition candidate and supporters; President Museveni, 71, was declared winner with 5,617,503 votes, representing 60.75 per cent of 9,246, 563 valid votes cast.
Opposition candidate Kizza Besigye, a four-time presidential contender and the Forum for Democratic Change (FDC) candidate, garnered 3,270,290 votes, representing 35.37 per cent of the valid votes cast.
Dr Besigye called the results a "fraud" and President Museveni only sent his Prime Minister Ruhakana Rugunda to give an acceptance speech.
"We have just witnessed what must be the most fraudulent electoral process in Uganda," Besigye's party said in a statement saying they will reject results.
President Kenyatta's message that was also replicated on his Twitter page immediately became a topic for condemnation as some Kenyans ganged up on social media to dissociate themselves from it.
One cheeky social media user wrote: "I regret on behalf of people of Kenya. The views [President] Kenyatta has expressed here are personal and do not reflect wishes of Kenyans.
"We stand with our brothers in Uganda this trying moments of their democracy when election is rigged and people intimidated."
Actually, since President Uhuru Kenyatta is the Kenyan Head of State, he can legally represent the views of all Kenyans. The problem though was that the statement was made as other East African leaders remained silent and election observers in Kampala could not agree on whether the election had been free and fair.
But some Kenyans were quick to point out that President Kenyatta had been quick on Uganda, but slow on Tanzania, another EAC member that held elections in October last year.
When President John Pombe Magufuli beat Edward Lowassa by getting 8,882,935 votes against Lowassa's 6,072,848, President Kenyatta only sent a congratulatory note one week after elections.
He had similar delays when Nigeria had the most peaceful elections in history and changed power from Goodluck Jonathan to an opposition candidate Muhammadu Buhari.
On Sunday, State House Spokesman Manoah Esipisu declined to comment, instead referring us to Foreign Affairs Ministry which has since not responded to our inquiry.
On her Twitter page, Foreign Affairs CS Amina Mohamed was instead congratulating Sam Kutesa, Uganda's Foreign Minister, for retaining his parliamentary seat in the same election.
But President Kenyatta's East African colleagues were quiet on Uganda. Rwanda's President Paul Kagame, who is an ally of Mr Museveni from the bush days, spent most of the weekend beefing with officials in neighbouring Burundi (another EAC member) over accusations that his country has been sponsoring rebels 'hiding' among Burundian refugees in Rwanda.
"Whomever (sic) advised and assisted the leaders of Burundi in this, even from afar has only added misery to the tragedy. Can only wonder why?" Kagame wrote with a tone of anger accusing Burundi's leadership under Mr Nkurunziza of being irresponsible.
"No amount of provocation against Rwanda is going to draw us into this…and not any solution is going to come from it," he added.
Tanzania's Mr Magufuli did not say a thing even though the country produced the leader of the EAC observer group in former President Ali Hassan Mwinyi.
While observers from the EAC, Intergovernmental Authority on Development (Igad) and Comesa gave the polls an okay for being largely peaceful despite noting challenges by the electoral commission, the European Union (EU) and the Commonwealth charged that the Electoral commission had been partisan.
"The taking into police custody of Opposition leader Mr Kizza Besigye several times is contrary to basic democratic principles. The National Resistance Movement (NRM's) domination of the political landscape distorted the fairness of the campaign, and state actors were instrumental in creating an intimidating atmosphere," Eduard Kukan, chief observer for the EU Mission said.
"Key concerns were increased prevalence of money in politics, the misuse of state resources – which led to significant advantages for the incumbent – and the competence, credibility and ability of the Electoral Commission to manage the process effectively and impartially," the Commonwealth Observer Group headed by former Nigerian president, Olusegun Obasanjo added.
The African Union Observation Mission (AUEOM) to Uganda which comprised of 41 officials from 28 AU member states and headed by Sophia Akuffo, former President of the African Court on Human and Peoples' Rights and Judge of the Supreme Court of Ghana also cited the challenges of voter material delays but stayed away from stating whether the elections had been free and fair.
But AU Commission Chair Nkosazana Dlamini-Zuma had earlier on said: "Any election-related disputes should be channelled to the recognised institutions to seek redress. Peace must be upheld in Uganda."
Meanwhile, Opposition candidate Dr Besigye remains under house arrest since Friday.
His wife, Winnie Byanyima, wrote that her husband was "Still prisoner. No charges, can't meet lawyers, campaign team, press or friends."
-nation.co.ke