VIDEO: Mike Sonko Performs Ritual Before Election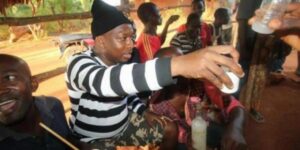 Nairobi Senator Mike Sonko on Thursday joined a group of youth in Malindi to perform a ritual presumed to be an invocation for the Jubilee candidate before the parliamentary by-election.
In the video, Sonko and the youths are seen enjoying pombe ya mnazi (Coconut brew) as the Senator urges the excited youngsters not to drink too much.
The Flamboyant legislator then calls on the bar attendant, and a man who appears to be the owner of the tavern arrives then leads the already thrilled young men in pouring the drink on the ground as they utter a lengthy incantation.
"Philip Charo angire bungeni, angire bungeni nangire (Let Philip Charo enter government)," goes the lengthy enchantment.
The young men reply wildly to the leader's incantation as they flood the ground with the gruel, asserting that they will vote for the Jubilee allied candidate.
The Nairobi Senator has been pitching camp at the Coastal region where he is drumming support for Jubilee Alliance Party candidate, ahead of the By-Election slated for March.
The video posted on Sonko's Facebook account sparked mixed reactions among his followers, with a majority bashing his decision to buy youth alcohol.
Kenyans.co.ke could not get the Senator's response on the significance of the ritual, as his phone went unanswered.
-kenyans.co.ke