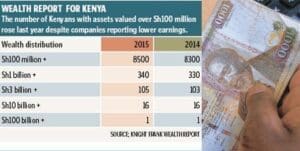 Some 202 Kenyans defied last year's subdued economic environment that saw a record number of listed companies issue profit warnings to enter the elite group of dollar millionaires, a new global wealth report released on Wednesday says.
Knight Frank's annual Wealth Report says the number of dollar millionaires in the country rose to 8,962 up from 8,760 reported the previous year when the economy is estimated to have grown at a moderate pace of 5.5 per cent.
The report shows that 10 Kenyans joined the billionaires' club — meaning their net worth rose to more than $10 million — pushing the total number of billionaires in the country to 462.
Kenya has one dollar billionaire — Sh100 billion — and 16 with more than Sh10 billion.
Knight Frank partners with South Africa-based Standard Bank to compile the African segment of the global report.
Standard Bank has a wide presence in Africa which it uses to collect and collate the data, including in Kenya where it is the majority shareholder at CFC Stanbic Bank.
CFC Stanbic declined to comment on the report for this article insisting that country specific findings are embargoed.
A majority of the wealthy in Kenya — 6,527 dollar millionaires — reside in Nairobi, 952 live in coastal town of Mombasa while the remaining 1,483 are dispersed across the country.
Analysts identified land as the key driver of wealth expansion for the ultra-rich who have been cashing in after holding onto the property for many years.
"With respect to Kenya, I think a great deal of the super-rich's outperformance of the economy is derived from land. We have seen outstanding absolute returns in the value of land," said Aly-Khan Satchu, an analyst and chief executive of data vending firm Rich Management.
Land prices in Kenya have rallied in the past decade following increased infrastructural development that has opened up new locations for investment.
Last year land was the best performing asset class whose returns stood at an average of 15 per cent.
The ranks of the super-rich grew even as companies continued to struggle under harsh economic conditions that forced 18 listed companies to warn that they expect full-year earnings to drop by at least 25 per cent.
Manufacturing companies, especially in the steel sector, have been scaling back their operations citing the steep drop in commodity prices.
X.N Iraki, a lecturer at University of Nairobi's Business School, said nothing was really unique about the outcome since it is the ability to make money during hard times that sets the wealthy apart.
"It is expected that the wealthy know how to hedge and it is possible that many companies are not doing so," Dr Iraki said, adding that most of the superrich have diversified investment portfolio which ensures that their wealth is constant at worst but rising most of the time.
Rich Kenyans have always held their wealth in secret, forming companies and nominee accounts to hold their stock market investments and own land on their behalf. But recent wealth declarations by chief executives and nominees to senior government positions have validated reports of a growing list of millionaires.
Devolution Secretary Mwangi Kiunjuri last year disclosed that he was worth Sh798 million while his Health counterpart, Cleopa Mailu, valued his wealth at Sh615 million. ICT's Joe Mucheru estimated his worth at more than Sh500 million.
Safaricom chief executive Bob Collymore set a record with a voluntary declaration that he is worth Sh277 million while Joshua Oigara of KCB put his wealth at Sh220 million.
Recent reports of mega-corruption have also offered a glimpse into how ordinary Kenyans become overnight millionaires.
Hairdresser-turned-'tenderpreneur' Josephine Kabura acknowledged enjoying a rapid rise of economic status in the last three years by supplying goods to the government.
Former Nairobi chief financial officer Jimmy Kiamba who was on a Sh85,000 salary at City Hall, also confounded many after court documents revealed that he owned property worth hundreds of millions of shillings and controlled a number of bank accounts with hundreds of millions of shillings.
A forensic audit that was done following the collapse of Imperial Bank also lifted the lid on another group of hidden millionaires, including the estate of the deceased chief executive Abdulamek Janmohammed and fishing company W.E Tilley.
Corruption has been cited as a key driver of land prices in the Kenya, mainly arising from the fact that corrupt individuals are often willing to pay inflated prices as part of a money laundering scheme.
The Central Bank of Kenya recently introduced stringent rules on handling of large cash transactions in an effort to lock out the dirty cash from the formal financial system.
Previous wealth reports on Kenya have shown strong linkages between politics and wealth accumulation, indicating rampant misuse of public office for personal gain.
Knight Frank does not name the wealthy individuals but other wealth reports have in the past named President Uhuru Kenyatta's family, former president Moi's family and former Cabinet minister Nicholas Biwott.
Business moguls who have been named in past wealth reports include Vimal Shah, Chris Kirubi and Manu Chandaria.
Last year Kenya was elevated to a lower middle-income economy, underlining improving wealth status among its population.
Knight Frank has in this year's report warned of a growing gap between the rich and the poor in many countries.
"The increase in the number of dollar millionaires could indicate a worsening inequity yet communism is dead and capitalism is thriving. Philosophers and economists should give us an alternative system," said Dr Iraki.
The International Monetary Fund has identified better access to education, health care and well-targeted social policies as factors that can help raise the incomes of the poor and lower middle class.
Kenya has the largest number of dollar millionaires in East Africa – currently standing at more than double the total of those in Tanzania, Uganda and Rwanda.
–