Kenyan politicians rush to buy choppers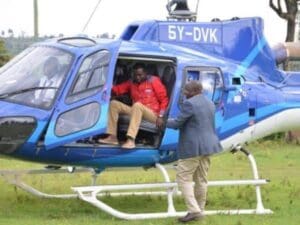 At least 59 newly imported helicopters have been issued with operating licenses by the Kenya Civil Aviation Authority over the last two years.
Owning a helicopter is becoming an essential part of demonstrating that you are one of the political big boys.
Rightly or wrongly, politicians seem to believe they are going nowhere without a helicopter. The 2017 elections are set to be the most expensive ever.
Small passenger helicopters cost between Sh100 and 200 million in Europe or America but the cost of import duties and final assembly in Kenya can easily double the cost to Sh400 million plus. Middlemen can also push up the prices.
The more upmarket Eurocopter EC135 which is also used in Kenya carries 7 passengers for 620 kilometres and costs $3.9 million ( Sh390 million).
The most popular new model is the Eurocopter 350 Ecureil costing around US$1.95 million ( Sh195 million). The classic design has been manufactured in France since 1975 and can carry six passengers for 675 kilometres. Of the helicopters imported in the last two years, 26 were Eurocopter variants.
The next most popular model is the Bell Jet Ranger, costing around $0.95 million ( Sh95 million). It can only carry
four passengers but can travel up to 693 kilometres. Of the imported helicopters, 14 were Jet Ranger variants.
A helicopter is obviously convenient for campaigning but it can also be rented out to the commercial operators at Wilson Airport in Nairobi so that purchasers can get a cash return on their investment. Hiring a helicopter from the Wilson operators cost around US $2,000 ( Sh200,000) per hour of which around half would go back to the owner.
Most of the choppers are owned by companies so it is difficult to establish which politicians and businessmen own them. However there is strong evidence that many are being imported by politicians.
ANC party leader Musalia Mudavadi already has a Eurocopter B4 costing $2.1 million ( Sh210 million), a higher specification chopper that can carry seven passengers for 610 kilometres. He has reportedly just splashed out to buy a second one. He obviously plans to make a big push in 2017.
Peter Kenneth owns a helicopter and is also acquiring a Cessna Grand Caravan which costs new around $1.75 million ( Sh175 million).
Kass CEO Joshua Chepkwony is reportedly buying a new chopper in addition to the one he already co-owns with Deputy
President William Ruto.
CID Director Ndegwa Muhoro is acquiring a chopper through Flex Air Charters while ex-Mathira MP and tycoon Ephraim Maina has acquired three helicopters, including a brand new one that is yet to be registered.
Former defence chief Julius Karangi in conjunction with retired President Mwai Kibaki are said to be acquiring a helicopter while Elgeyo Marakwet Senator Kipchumba Murkomen is finalising details to buy one.
The Kenyatta family has two corporate Eurocopters in the B3e and B3+ configuration.
Cord leader Raila Odinga is also acquiring a Eurocopter B4 Bell in the run-up to his do-or-die presidential contest in 2017.
Gideon Moi, his father, and Nicholas Biwott also own the Eurocopter 350 models.
Wiper leader Kalonzo Musyoka imported a Eurocopter AS350. It was chartered by CCM for the Tanzania election campaigns but tragically crashed in October 2015 killing the pilot and three passengers including outspoken parliamentary aspirant Deo Filikunjombe.
Kalonzo has since been compensated by the insurer but it is not known whether he has replaced it.
The helicopter went down in the middle of the Selous Game Reserve en route to the town of Ludewa in southwest Tanzania.
Nairobi governor Evans Kidero and Narok governor Samuel Tunai
are also said to own choppers through companies.
Captain Gad Kamau, a helicopter pilot operating out of Wilson Airport, said business was booming during the recent by-elections in Kericho and Malindi.
Kamau said 90 percent of people hiring the helicopters are not tourists or medical personnel but politicians.
He predicted that Kenya does not have enough helicopters to cope with the demand in the run-up to the 2017 elections.
"We will have to bring in more from South Africa and Europe. The helicopters we have will definitely not satisfy the huge demand," he said.
The biggest helicopter charter companies in Kenya include Sicham Aviation, associated with Baringo Senator Gideon Moi, Tropical Air, Lady Lori and ALS among others.
Kamau however said that helicopters are more expensive to buy, run and maintain than fixed wing aircraft,.
A helicopter consumes 150 to 160 litres of jet A-1 fuel in an hour.
To park a helicopter at a hangar at Wilson Airport for maintenance will cost between Sh150,000 to Sh200,000 for two days.
Insurance is even costlier but is pegged on safety record of the each company. "More established companies pay a lower premium," Kamau said.
A helicopter costs roughly more than $3 million (Sh300million). A Eurocopter EC135 goes for about 3.9 million US D (Sh396 million).
-the-star.co.ke