ODM Denies Writing NYS Saga Letter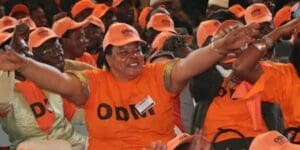 The Orange Democratic Movement (ODM) has faulted theJubilee coalition over a letter making rounds on social media purportedly written by ODM chairman John Mbadi, asking one of the opposition leaders to slow down on the National Youth Service saga.
In a statement, ODM told off members of the ruling coalition, stating that they were mindless to write such a letter and address it to the 'CORD Chief Whip', a position that did not exist.
"The letter is addressed to the 'CORD Chief Whip' a position that does not exist in law and the parliamentary Standing Orders. Only an ignorant person can use a non existent title." the statement read in part.
In the alleged ODM missive, Mbadi asks Minority Whip Thomas Mwadeghu to go easy on the NYS scandal lest some key party members including its Director of Elections Junet Mohammed, among others get incriminated in the Sh791 Million scam.
However, in the statement signed by ODM Communication Director Phillip Etale, the party further indicated that the letter had Mbadi's scanned signature yet the party did not sign off its official letters in that manner.
"Therefore, the letter is a fraud which is Jubilee's second name, a forgery and an attempt to divert the attention of the public from the theft of millions of shillings meant for the youth on the National Youth Service," ODM firmly stated.
The Opposition party reiterated their dedication to see those involved in the infamous corruption scandal at the NYS arrested and prosecuted.
"The ODM wishes to state as follows; Mr. Mbadi has and is still very vocal on the issue of the theft in the NYS where hundreds of millions of shillings have been stolen under the watch of the Jubilee administration." the party added.
Here is the letter:
-kenyans.co.ke