VIDEO: Babu Owino Beats Up Student, Threatens Him
VIDEO: Babu Owino Beats Up Student, Threatens Him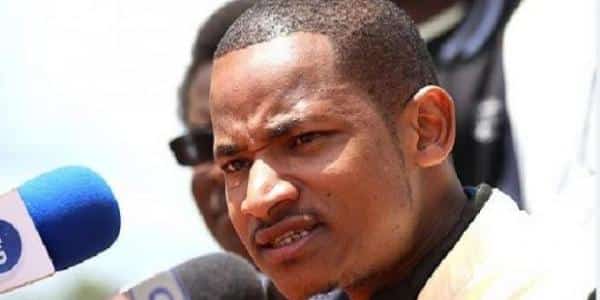 Students Organization of Nairobi University (SONU) Chairman Babu Owino was caught on camera thoroughly beating up a fellow student in public.
In a video shared online, Babu together with his unknown friend, seem to have cornered their victim identified as Mike Jacobs near a petrol station in Kileleshwa, where they launch thunderous slaps on the poor lad.
The assaulted young man is said to be Babu's opponent eying the SONU chairmanship ahead of varsity's elections. In the video, the campus politics veteran seems to issue a stern warning to his victim in dholuolanguage asking him to stay away from the university's politics or risk death.
"You need to concentrate on your studies…politics will lead to your death, mark my words," enraged Babu tells Jacob amidst multiple slaps.
When Kenyans.co.ke sought for his side on the issue, Babu could not comment on the altercation.
Babu, whose real name is Paul Ongili, has been the president of the University three times and is not short of controversy.
The outspoken chairman, is known to champion students' rights through chaotic demonstrations. He once allegedly led goons in beating up an old Kisii bus driver who had hooted at him along State House road.
Interestingly, 'the Mugabe of Campus politics' (nicknamed for holding on to campus politics) is also one of the most philanthropic leaders in the country through numerous donations towards his comrades course. He once settled hospital bills of a student's mother which had amounted to Sh800,000.
Babu returned to campus to pursue a Law degree after graduating with a first class honours in Actuarial Science in 2012.
The University of Nairobi students' politics have traditionally been one of the hottest political contests involving students in the country. The last elections in 2015 was marred by hooliganism and unrest among the students.