CORD split widens over Moses Wetang'ula's chaotic presidential bid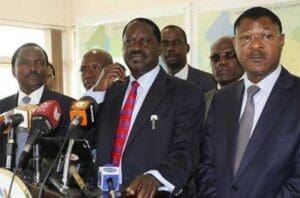 The fallout in CORD following Senator Moses Wetang'ula's chaotic presidential bid launch deepened yesterday.
Mombasa Senator Hassan Omar described ODM leader Raila Odinga's decision to skip the event as "demeaning" to the Opposition coalition.
"It is demeaning for him to have gone for a holiday in Tanzania. He ought not to have missed the function," said the Wiper Party secretary general.
This came even as an aide of the Kakamega Governor Wycliffe Oparanya was arraigned in court yesterday.
Police believe there is enough evidence to link Daraja Nabwera to the explosions that disrupted Mr Wetang'ula's presidential launch for close to 30 minutes.
Chief Inspector Richard Cheruiyot swore an affidavit before Senior Resident Magistrate James Ong'ondo, asking for seven days to prefer charges against Mr Nabwera.
Nabwera is also the Lugari constituency ODM chairman. Oparanya and some ODM leaders had opposed the rally in Kakamega, but the CORD leadership intervened to have the Ford Kenya leader hold it there.
Raila skipped the ceremony, with his allies citing concerns about his security. But fellow CORD co-principal Kalonzo Musyoka attended.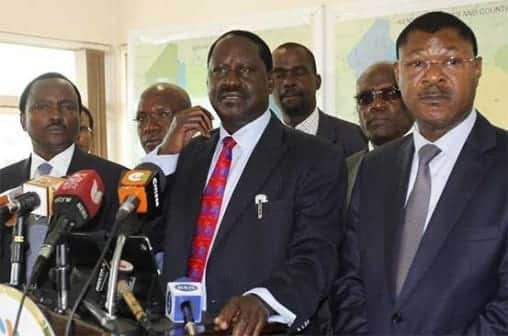 Mr Cheruiyot told the court that investigations showed Nabwera took part in activities to undermine security at the rally.
"I am investigating a case whereby Nabwera is accused of an offence of promoting a war-like undertaking contrary to Section 44 of the Penal Code, among other charges. During a political rally, tear-gas canisters were lobbed at the VIP podium by persons other than police officers," said Cheruiyot.
He added: "There is evidence to show the acts of hooliganism were planned and executed by, among others, Nabwera, who is under investigation. This investigation may take some time, at least seven days."
He further swore to the court that Nabwera had failed to co-operate with investigators after being prevailed upon by the county attorney Moses Sande.
Interestingly, Mr Sande had been arraigned in the same court minutes earlier and charged with obstructing the police while doing their job.
Mr Ong'ondo released Sande on a personal bond of Sh50,000 awaiting ruling on whether he should take a plea or not.
Sande's lawyers, however, protested against taking a plea because he was presented before court on a faulty charge sheet.
The police also demanded that Nabwera surrenders his phone, which is believed to have been used to co-ordinate the attacks, during the rally.
But Nabwera, represented by 24 lawyers led by Arnold Ananda, criticised the affidavit saying it was defective and in itself an abuse of the court process.
"The affidavit reads that it was filed on December 4, 2016, whereas today is April 4, 2016. The officer who swore the charges has not indicated his force number as is procedure, leaving us to guess whether we are dealing with an impostor or not, besides it has no seal," argued Mr Ananda.
Nabwera said he should not be detained as he has high blood pressure and diabetes, which required specialised treatment.
State Counsel Peter Mailenyi countered that the affidavit was legally binding. The court ruled Nabwera reports to the Kakamega Central Police Station for investigation for the seven days between 8am and 5pm.
He was given an option of paying a Sh20,000 cash bail so as to be investigated while out of custody. On the other hand, Mr Omar said it was a mistake for Raila to miss the function. By so doing, he said, he had created room for speculation on their unity.
"There is no junior party in CORD and partners must embrace negotiation in making decisions concerning the coalition," said Omar.
He asked Raila to address the bad blood between the ODM deputy party leader and Kakamega Governor Oparanya and his Senator Boni Khalwale. Yesterday, Khalwale asked the police to arrest and compel Oparanya to record a statement over the chaos.
He said the governor should say what he knows about the violence as he had earlier opposed holding the rally in the county.
Best bet
But Oparanya maintained that he had nothing to do with the violence.
"I did not sponsor any chaos. My absence at the rally does not mean I had a hand in the violence. We should leave the matter to security agencies for investigation," said Oparanya.
ODM National Chairman John Mbadi and the party's elections director, Junet Mohamed, questioned how civilians acquired tear-gas canisters and claimed that the Government was behind it.
Separately, Wetang'ula insisted that he was CORD's best bet to dislodge President Uhuru from power.
"I am better placed to defeat President Uhuru Kenyatta. I will send him home as early as 9am in the next polls. I am sure of clinching CORD's ticket by beating former Prime Minister Raila Odinga and Wiper leader Kalonzo Musyoka. I am ready to transform this country," said Wetang'ula.
He spoke during a meet-the-people tour of Busia County on Sunday evening. Khalwale said Ford Kenya was in CORD as an equal partner and not a flower girl to entertain other leaders. "If you joined CORD without proper plans, then they will plan for you. We are keen to win the presidency of this nation," said Khalwale.
And Ford Kenya delegates from Nyanza vowed to seek a reversal of Wetang'ula's declaration as presidential flag-bearer at the party's General Council on April 15.
-standardmedia.co.ke