Why I fought police officers: Nakuru tuk tuk operator speaks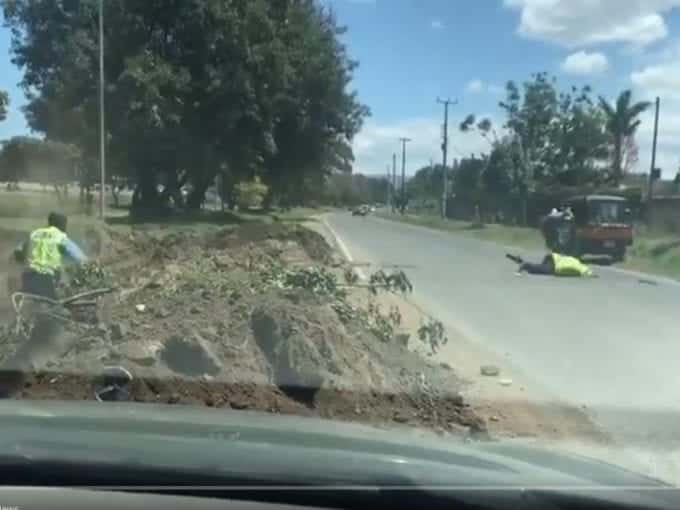 "I decided enough was enough": The operator of an auto rickshaw caught on camera fighting two police officers has revealed what ensued before the melee.
Speaking to The Standard, the operator, who sought anonymity on fear of victimisation claimed that the law enforcers had destroyed the tuk tuk's windscreen and side mirror.
The father of one, currently in hiding further claimed that not only did the officers destroy his tuk tuk but also tried to beat him up, prompting him to defend himself.
"The officers had stopped two other tuk tuks and I could see them receive money. They saw me approach and one signalled me to stop," he said.
According to the driver, he slowed down and just when he was about to stop, one of the officers smashed the windscreen and side mirror.
"I got annoyed and demanded to be given answers, as they tried to intimidate me, saying there was nothing I could do to them," he said.
"I decided enough was enough and had to fight what I believed to be unjust and unfair cops who were intimidating me because they were in Government uniform. We exchanged blows and after I overpowered them, they picked stones and hurled at me.
"I had to get into my tuk tuk and try to confuse them by changing direction.
"I completely lost my mind because of the injustice, which was being meted on me by police officers whose interest was the bribe," he said.
According to the man, he was ferrying three passengers to Nakuru town when the incident happened.
Many of those reacting to the video on social media seemed to side with the tuk tuk operator.
Speaking to The Standard, Vincent Oraro, a rider, said police officers on the route, some in civilian wear, had been harassing them.
"To say the truth, I would have done the same. The officers are concerned with bribes only and they do not even check if we have relevant documents. The tuk tuk driver did the right thing," he said.
By William Osoro 
–sde.co.ke