Kenyan man running for Clayton Town Council seat in Delaware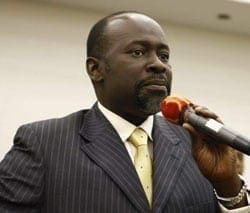 A Kenyan man is among three candidates who have filed for two seats on Clayton Town Council in Delaware.
Pastor Nicholas Oloo is running for election along with the two incumbents, David Letterman and Mary Ellen DeBenedictis. The filing deadline for candidates was Tuesday, April 5,the two council terms are for two years each and the election will be held on Tuesday, April 26 from 2 to 7 p.m., at Town Hall, 414 Main St.
To be eligible to vote, a person must be resident of the Town of Clayton, a citizen of the United States and at least 18 years old. Identification and proof of residency is required.
Rev.(Dr) Nicholas Obiero Oloo is popularly know as Pastor Nick. He lives with his family in Clayton, Delaware. He is married to his wife Millie Obiero and both have a son (Keith), who is 18 years old. Keith is a student at University of Delaware, at Newark Delaware.
Pastor Nick relocated to Clayton with his family about five years ago. Prior to moving to Clayton they lived in Middletown a little over two years with his family.
Pastor Nick and his wife Millie are both health professionals working for non-profit organizations that are committed to helping the sick, disadvantaged ,mental and disabled population. They both find satisfaction in serving the community as health professionals.
Pastor Nick and his wife Millie are ordinary middle class Americans. They work hard every day and sometimes two jobs to provide for their daily needs on a day to day basis.
Pastor Nick is a born again evangelical and Pentecostal Christian. He is an ordained and trained minister of the word of God and a preacher of the Gospel.He has been a minister and pastor for over 22 years. Pastor Nick is the founder and the lead pastor of True vine International Family Worship Center.
KINDLY REMEMBER PASTOR NICK IN YOUR PRAYERS FOR NEXT WEEK'S ELECTIONS
Additional reporting:Smyrna/Clayton Sun-Times and Pastor Nick Oloo