VIDEO: Electricity company workers escape death by a whisker after 30 minutes on the cross
VIDEO: Electricity company workers escape death by a whisker after 30 minutes on the cross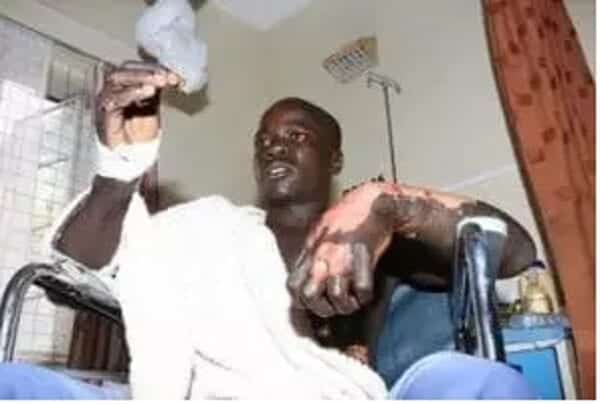 "If we did not die on Sunday, we will not die."
Those were the words of Felix Odhiambo as he lay in his hospital bed in Nakuru yesterday.
He added: "I did not expect to be alive today, seeing and talking to people after what I went through."
It is indeed a miracle that Odhiambo and his workmate Peter Omenda are alive today. Many people wrote them off immediately they saw them clinging helplessly on live power cables on Sunday, with sparks flying in all directions.
A video of the two employees of Easy-take Company, which is usually contracted by Kenya Power to carry outinstallation work, went viral immediately it was posted on social media.
Shocked Kenyans started posting "Rest in Peace" messages after watching the harrowing clip.
The workers were electrocuted after power was switched on without warning at 6pm on the line that they were working on in Nakuru's Industrial Area.
Odhiambo said he was left hanging on electric cables for more than 30 minutes.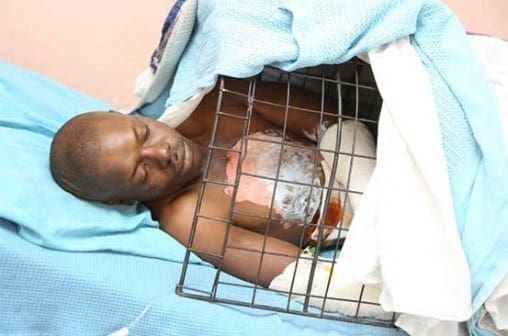 But while Odhiambo, 23, says that Kenya Power had contracted them to do the work and was therefore aware the workers were on duty,  Kenya Power insists their presence was illegal.
Kenya Power MD Ben Chumo said the Central Rift manager had requested for a switch-off for routinemaintenance but the contractor hired for outdoor metering took advantage of this without notifying the company.
"What happened in Nakuru was peculiar. A contractor took advantage of a switch-off, which was requested by our regional manager without notifying anyone and we only came to know (about it) after we energised our lines at 6pm after our control room at Juja got a clearance from the Nakuru manager," said Dr Chumo.
Blamed company
Chumo said they have already summoned and suspended the the contractor's services until investigations are completed.
"We cannot understand how a contractor can do that knowing our safety procedures, but this is a matter to be addressed after the investigations," he said.
But Odhiambo, who sustained eight per cent burns, blamed the power company for his woes, saying it failed with speed to save them.
"I expected Kenya Power to respond immediately after they noted a problem in the line but I was left hanging on the cables for over 30 minutes," said Odhiambo.
He added: "(KPLC) Control room is to blame because we had our supervisors and officers working with KPLC as usual. Our supervisors were to communicate with control room to inform them that we had completed work. That did not happen," he said.
Odhiambo trained as an electrical technician at Mwanjila Institute of Training in Taita Taveta.
His colleague, who sustained 50 per cent burns on his hands, abdomen and legs said he became unconscious immediately the power was switched on.
Mr Omenda, 39, said he was changing a switch when the unexpected happened.
Serious condition
"I was busy changing a switch in one of the cables when I was electrocuted. I was left unconscious hanging on the poles," he said.
Omenda is a trained electric engineer who studied at Kenya Power Training College in Ruaraka where he specialised in installation and earthing of power.
He worked with Kenya Power for more than five years before ending his contract in 2014 when he joined Easy-take Company in Nairobi.
The two were received in serious condition at Valley Hospital, according to Rabuogi Logan, a resident medical officer.
"One of the patients is in a very serious condition but we have stabilised him and more cross-examination is being carried out," he said.
The doctor said electrocution interferes with kidneys and muscles.
VIDEO: Electricity company workers escape death by a whisker after 30 minutes on the cross