Exclusive Video: Day Sonko Met His Match After Storming Into MD's Office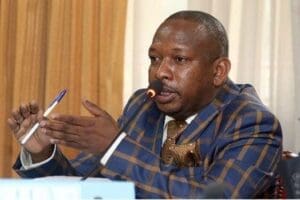 Exclusive Video: Day Sonko Met His Match After Storming Into MD's Office
Nairobi Senator Mike Sonko's high handedness and abrasive approach to issues was brought to screeching halt last week when employees of a Nairobi company threatened to lynch him and torch his vehicles for allegedly disrespecting their boss.
The flamboyant politician had stormed into the Nairobi City Water and Sewerage Company headquarters in Nairobi's Industrial Area last week on Wednesday and made his way to the managing director Eng Phillip Gichuki's office, apparently to present a petition from Eastlands residents who were complaining about their water getting contaminated with sewage.
"The senator was questioning the MD why he was not picking his calls despite his repeated attempts to talk to him on phone," a source at the water company who witnessed the mid-morning showdown last week said.
As usual, the Senator was accompanied by a retinue of bodyguards and other cheerleaders who all forced their way into the company premises on Kampala Rd, Off Enterprise Road in Nairobi, with some positioning themselves along the corridors.
The problem begun when one of Sonko's bodyguards rudely stopped an employee from accessing the MD's office which is located on the second floor.
What Sonko and his team did not know was that the MD is a darling of the employees, who refer to him as baba (father).
The shocked and enraged employee quickly alerted his colleagues about the strangers in the compound. Word spread quickly and soon hundreds of employees were converging, shouting and asking Sonko's drivers to leave the compound.
-nairobinews.nation.co.ke