Kenyan man passes away in Sinking Spring Pennsylvania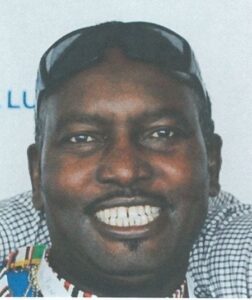 Kenyan man passes away in Sinking Spring Pennsylvania
Ole R. Pertet, 57, of Sinking Spring, passed away Sunday, May 8, 2016 at 2:28 pm in Hospice & Community Care in Lancaster. He was the husband of Judy L. (Holmes) Pertet.
Born in Ngong Nairobi, Kenya he was the son of the late Moila and Juliet (Bewanganga) Pertet. Ole worked for the Kenya Postal Service as his first job. He later left the Postal Service and joined Magadi Soda Company.
In 1983 he left Kenya and went to the Academy of Aeronautics in Queens, New York where he studied Airframe and Powerplant. Instead of working as an airplane mechanic, Ole took a job with a cruise line. Five years later, he opened an African Club in Patterson, New Jersey. He later took a job with a car dealership and became a Volvo Cars of North America Safety Specialist.
Ole was an entrepreneur for Fortune Hi-Tech Marketing company part time which later let to a full time endeavor. Ole was involved with Lungevity Cancer survivors as well as Cancer fighters of America. He went to Washington to Rally for Medical Research and later obtained his life insurance to be able to assist others.
In addition to his wife, Ole is survived by his sons Jonah M. Pertet at home and Richard Pertet; daughter Nicole Mucheru of Texas and step daughter Erica Wilt of New Jersey. He is also survived by his brothers Fred and Chris Pertet; sisters Florence Pertet, Sialo Pertet and Lilian Ndatha Pertet.
Funeral Services will be held in Bean Funeral Home, 3825 Penn Ave. Sinking Spring, Saturday, May 14, 2016 at 4:00 pm. Reverend Karey Schaffer will officiate. Interment will be held in Pleasant View Cemetery Monday, May 16, 2016 at 11:00 am.
The family will receive relatives and friends Saturday 3-4:00 pm. In lieu of flowers contributions may be made to http://lungevity.donordrive.com/campaign/olepertet.
Online condolences may be made at www.beanfuneralhomes.com – See more at: http://www.beanfuneralhomes.com/obituary/Ole-R.-Pertet/Sinking-Spring-PA/1617796#sthash.M7WoBQy9.dpuf