Minister and MP shared secret house with Jacob Juma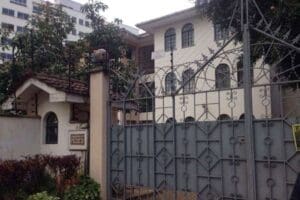 Minister and MP shared secret house: A Cabinet secretary, lawyer, MP and a former minister are among those who shared a secret apartment with businessman Jacob Juma who was killed 20 days ago, the Nation can reveal.
The apartment in Westlands, Brookside Drive, christened Penthouse and named Roses is a private address where the rich and powerful dine, drink and enjoy the company of women.
From the outside, the property looks unattractive —  but it is the improbable centre of wheeler-dealing where hundreds of millions or even billions in deals are negotiated and where the rich frequent for entertainment.
On the day he died, Juma had visited the old three-storey property with 12 apartments and went straight to number nine — his base for the past six years.
According to records at the gate, in the previous week, the apartment had hosted the former minister, the Nairobi lawyer and the MP from Western.
Months earlier, the Cabinet secretary had been a regular visitor.
It is in this apartment that the fall of Dubai Bank is believed to have been planned — with Juma as the mastermind — and litigation planned, ranging from various cases against Deputy President William Ruto for alleged land grabbing, to efforts to have Nairobi Governor Evans Kidero pay for Mumias Sugar Company debts.
The Penthouse is also popular with women and records show that in his last seven days, Juma had hosted at least four different ones.
Our investigations reveal that an hour before his lifeless body was discovered, Juma had made a phone call to a foreign ambassador, promising to send him a dossier on corruption.
Juma is said to have told a relative later that the envoy had told him to send him a text message and that the envoy would set up a meeting in a week.
This information is missing in a brief given by the Directorate of Criminal Investigations on the ongoing investigations into the killing.
Despite having his mobile phones and the support of a surveillance software at the Jogoo House Command Centre fitted with automated number plate recognition cameras and hundreds of CCTV cameras mounted on virtually every part of the city, the investigations department can only account for Juma's last 45 minutes.
SHODDY POLICE INVESTIGATIONS
In the ongoing investigations, the police have either deliberately disregarded or have been unable to piece together Juma's last six hours.
Official police statements into the investigations differ sharply with the accounts of key witnesses who have recorded statements.
The briefings on the work done by the police so far also point to either inept investigations or a possible cover-up of a murder that shook the nation.
For instance, by Wednesday this week, close to two weeks after Juma's death, the police have not visited the Penthouse.
In his latest brief on the murder, the Director of Criminal Investigations, Mr Ndegwa Muhoro, stated that the late businessman was captured on CCTV cameras driving on Waiyaki Way at about 19.34 hours on the evening of Thursday May 5, the day his body was found in his car.
Yet, at this time, according to multiple interviews, Juma was at the Penthouse in the company of a woman whose identity the Nation will not publish for legal and privacy reasons.
Mr Muhoro's press briefing also differed with earlier police information that Juma's car was first discovered by a Corporal Koome, an Administration officer based in Dagoretti, who was apparently on patrol in the area.
Ms Miriam Wairimu, Juma's wife, has questioned the validity of the reports attributed to Corporal Koome since he gave an incomplete mobile phone number in the police incidence report on the shooting.
Minister and MP shared secret house
After a series of interviews with multiple sources, the Nation was able to piece together the last 12 hours of a man sworn to die bringing down the Jubilee administration.
On Thursday morning, Juma woke up at about 9am in his home in Karen Plains where he lived with his wife Miriam, two children and 10 servants.
He had a cup of tea and made calls as he planned his day. Among those he called was Will, his trusted taxi driver of six years.
Will was more than a taxi man for the self-made millionaire. He was his "wingman" and they were "bosom buddies".
Will was Juma's "chief of stuff" — the man who ran errands for him, ferried his visitors, drove him around town when his car was broken down or when he didn't feel like driving and the one who took his dirty laundry to Serena Hotel where it was cleaned.
On that morning, Juma called Will and complained that his last laundry delivery was not done to his standards.
After breakfast, he briefly headed to the Serena Hotel, then drove to the city centre.
CCTV cameras captured him driving around City Hall looking for a parking slot.
After he parked, he headed to CBA Building, Standard Street, for a meeting with his lawyer and friend Ahmednasir Abdullahi.
The meeting lasted for about one and a half hours, after which he headed to The Stanley for lunch with friends.
Some minutes after 3pm, Juma headed to the Penthouse on Brookside Drive, which homicide detectives are yet to visit .
Mr Mark Okello, the day guard, opened the gate for his dark blue Mercedes Benz and noticed that the boss, as they called him, was alone in the car.
Nothing unusual. He recorded 3.15 pm as the entry time.
Juma drove to his usual parking slot behind the apartment and walked upstairs to his house.
-nation.co.ke