Photos:Scare as elephant charges at curious onlookers in Meru
Photos:Scare as elephant charges at curious onlookers in Meru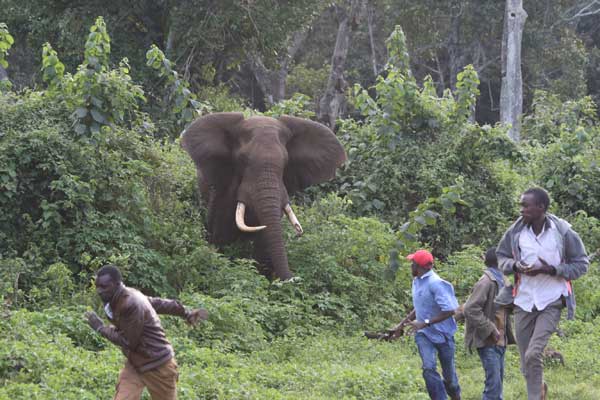 Excited motorists and pedestrians were Sunday evening forced to run for dear life after an elephant charged at them.
The male jumbo was feeding in Gitoro area near the Meru Showground, metres away from the Meru-Nanyuki road.
Curious motorists had parked their vehicles beside the road to catch a glimpse of the mammal which had one broken tusk.
At first, the elephant was calm and collected as it fed using its long trunk until a boda boda rider who appeared drunk arrived.
The rider revved up his motorbike without moving and the noise seemed to have annoyed the jumbo which charged at those who were nearby.
The onlookers, including journalists, who were taking photos scampered for safety.
No one was injured.
The elephant then retracted, continued eating and later went back to the Nkunga Forest.
MIGRATORY ROUTE
Nkunga area is a migratory route through which herds of elephants moving from the Mt Kenya Forest to the lower and upper Imenti forests pass.
During the rainy season, the migratory elephants go back to their habitats and move in large groups.
The Kenya Wildlife Service (KWS) has erected signs near the showground and the Nkunga junction to warn motorists that they are driving through a forest and that elephants roam the area.
Several accidents have been witnessed in the area after motorists rammed into elephants.
Traffic police have also cautioned motorists to be careful when driving through the two-kilometre stretch.
People gather at Gitoro along the Meru-Nanyuki highway where an elephant was grazing on May 15, 2016 evening. The agitated jumbo later chased away the onlookers. PHOTO | PHOEBE OKALL | NATION MEDIA GROUP
But to residents, who are mostly farmers, the elephants have been a constant source of agony.
Villages surrounding the forests have been experiencing unprecedented levels of human-wildlife conflict.
Wild animals invade farms destroying crops, leaving locals counting huge losses every year.
In a recent interview, Meru KWS Deputy Warden Daniel Rono said: "During the harvest time, we get approximately five to 10 reports of elephant invasion in a day.
"Jumbos are very complex animals with extended family ties and they move for vast distances to eat [in order] to keep their massive bodies supplied with nutrients."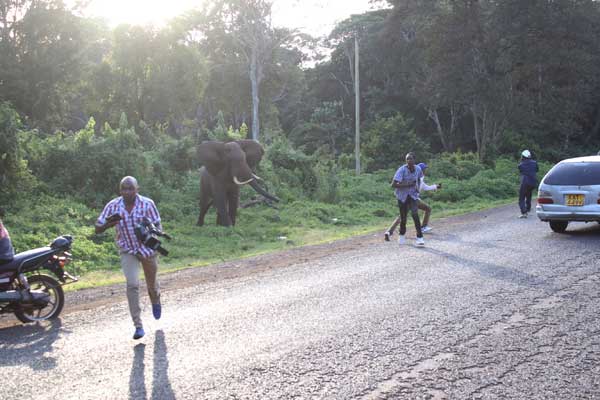 The roar of a motorbike seemed to have agitated the elephant which chased away the onlookers who included journalists. PHOTO | PHOEBE OKALL | NATION MEDIA GROUP
ELECTRIC FENCES
The problem has forced farmers to erect their own electric fences around their farms.
The fences have higher voltages than those used by KWS.
This not only poses danger to elephants which have been electrocuted but also the farmers themselves.
On Sunday, Meru Woman Representative Florence Kajuju said she had had invited Parliament's Environment and Natural Resources Committee to investigate the unprecedented levels of human-wildlife conflict being reported in the area.
Ms Kajuju invited members of the public for a meeting with the committee at the Nkunga Catholic Church on May 28, 2016.
"Elephants in Meru have led to human deaths and massive destruction of crops.
"The law is clear that a certain percentage of tourism revenues goes back to the community but this has not been the case as far as Meru is concerned," she told worshippers at St John MCK Kiirua Church.
She said education has suffered with schools registering poor results in examinations because children are often too frightened to walk to and from their institutions.
Sometimes, she added, they have to leave school early because of the elephants roaming their villages.
Source-nation.co.ke
Photos:Scare as elephant charges at curious onlookers in Meru