Raila irked by speaker Muturi for not recognizing him in Parliament
Raila irked by speaker Muturi for not recognizing him in Parliament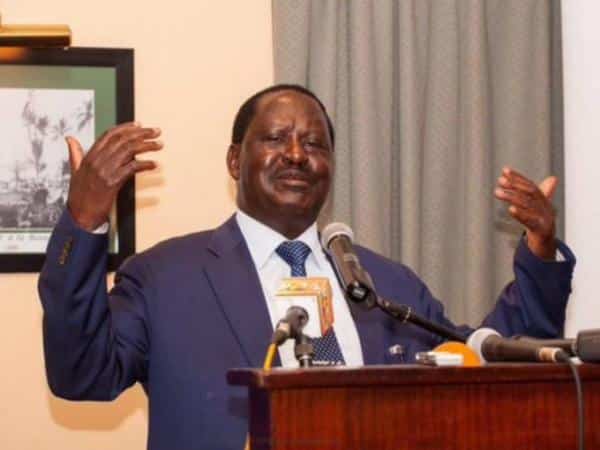 Raila Odinga was in parliament with his daughter, Rosemary Odinga, on Thursday, May 5, to rally CORD MPs to vote for the Gender Bill, 2015, which seeks to increase the number of women in public offices
– However, National Assembly speaker Justin Muturi failed to recognise his presence and instead recognised that of MPs from Uganda who had visited the house
– Raila took issue with Muturi's apparent snub and blasted for the same, saying it showed Jubilee's resolve not have the bill passed
Opposition leader Raila Odinga has hit back at National Assembly speaker Justin Muturi for what he believes was an apparent snub when he visited parliament on Thursday, May 5.
Speaking after a failed attempt to rally members of parliament to pass the Gender Bill, 2015, Raila said it was utterly disrespectful for Muturi not to recognize him as the former prime minister of the Republic of Kenya.
Raila was irked by Muturi recognizing visitors from Uganda but failed to recognize him.
"Nilipofika hapa, nilishangaa. Maanake speaker mwenyewe amekataa hata kunitambulisha. Anatambulisha wabunge kutoka Uganda halafu anasema wakenya wengine vile vile wako hapa (When I got here, the speaker failed to recognize me. He recognized MPs from Uganda and said other Kenyans are also here)," Raila said.
According to the CORD leader, the act showed that the government was not supportive of the bill that sought to increase the number of women in public offices in the country.
"Hiyo tayari ilinionyesha vile serikali yenyewe ilikuwa inahisi. Maanake kwa nini speaker akatae kutambulisha waziri mkuu ambaye amefika katika bunge lake (That showed me that the government was not supportive. Why would the speaker fail to recognize the prime minister of Kenya who has visited parliament)?" Raila added.
The ODM leader was accompanied by his daughter Rosemary Odinga as they sought to see the passing of the bill which failed in its second attempt.
At least 233 MPs were required to change the Constitution and implement the gender rule. But only 159 MPs voted in favour of the proposed law.
This is the second time that the bill has failed to sail through Parliament after April 27, 2016 voting. During the first voting, 195 MPs voted in favour of the bill up from today's 159 MPs.
The house will be proceeding on a one-month recess till June after Thursday's session.
During the first voting MPs from the Rift Valley and Western Kenya comprised the majority of those who voted against the bill.
President Uhuru Kenyatta and leader of the opposition Raila Odinga had both rallied their MPs to attend the session and vote.
Had the bill passed, it would mean that there will be no need for the nomination of any extra man or woman as no one gender would be allowed to have more than two thirds of public appointments.
The bill also proposes that there will be nomination of a gender if the ratio is not met, and this person will serve for two terms only.
Currently, Parliament has just 68 elected and nominated women MPs. On the other hand, the senate has just five nominated female senators.
No female senator was elected.
-tuko.co.ke