Jubilee makes strides in Coast as Mvurya ditches opposition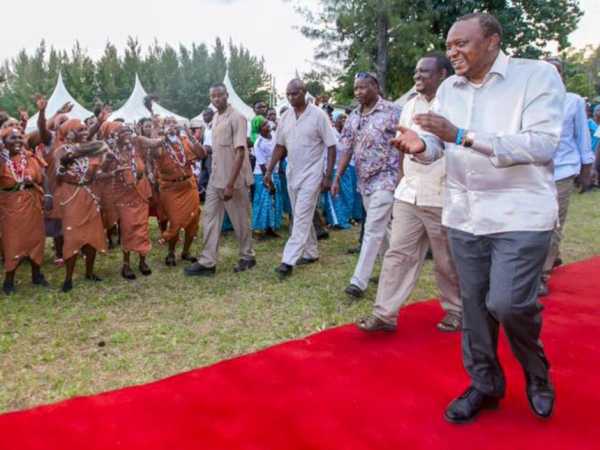 President Uhuru Kenyatta's tour of Coast seems to have yielded fruit after top leaders from Kwale county declared their shift to the Jubilee Party.
Governor Salim Mvurya and Deputy Governor Fatuma Achani said they will mobilise residents to vote for Jubilee.
Mvurya, who was elected on the Cord ticket, was endorsed by opposition leader Raila Odinga for the Kwale governor's seat.
Achani said it is time for development-based politics and not "empty promises".
"The politics of saying we belong to this group but there is nothing we get in return is gone. There are neighbours who think they will control Kwale politics but we have warned them that it will not be allowed," she said on Saturday.
It is alleged that forces within ODM have threatened to deny Mvurya a ticket for his refusal to be loyal to the party chief.
"Now that there is no party hopping, and [ODM] announced it will deny Mvurya the ticket, do you want him to remain there and suffer?" Achani said.
She and Mvurya addressed a rally at Jomo Kenyatta Primary School in Msambweni.
Uhuru was present as he wound up his Coast tour.
He launched several projects, including the Mkanda Dam and the distribution of radiology equipment at Msambweni Referral Hospital.
Mvurya said, "Uhuru is the President and he must be respected and supported like what we are doing in Kwale for the development of our people."
He said Uhuru has launched several projects and is committed to improving lives. "You have trusted me and my deputy with development. I ask you to trust us on giving you the political direction," Mvurya said.
The Governor pledged to support the formation of the Jubilee party as long as the region is in the government come 2017.
Area woman rep Zainab Chizuga said the county has totally defected to Jubilee since opposition has not done anything good for them.
Lunga Lunga MP Khatib Mwashetani said there is a need for Coast region to be in the Jubilee administration after in the next election to ensure they are also decision makers.
"Mung'aro will represent Coast region during Jubilee party launch," he said.
Kilifi North MP Gideon Mung'aro said that Coast has attempted being in the government for 10 years in vain through the opposition and
said it is time to try Jubilee for the next five-year term.
"We want to be in the government to make decisions together and not [to be] begging like today," he added.
DP William Ruto asked Mvurya to ensure locals from Kwale attend the Jubilee party launch since the region has accepted to work with the government for development.
On his part, Uhuru welcomed Mvurya and his team to Jubilee,