Ex-Mungiki leader blocked from Muhoro's event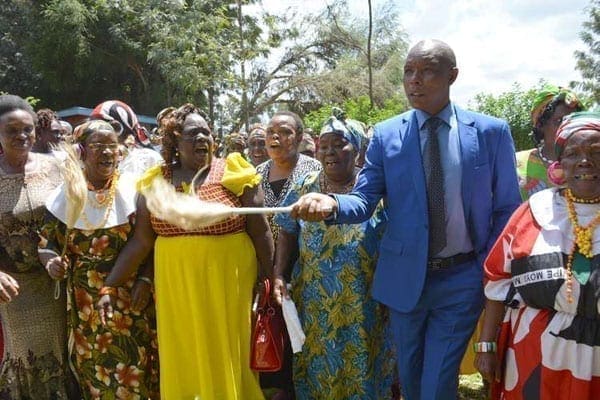 Former Mungiki leader Maina Njenga was over the weekend barred from attending a fundraiser attended by Director of Criminal Investigations Ndegwa Muhoro at Kundarila Day Secondary school, in Laikipia West.
Mr Njenga who is eyeing the Laikipia Senator's seat caused a scene when he arrived in style at the fundraiser that was also attended by Laikipia West MP Wachira Karani.
Flanked by his supporters, the former Mungiki leader arrived at the venue with over five chase cars led by about 20 motorcycles all with headlights on.
His aides, donning intimidating faces, jumped out of their cars and opened his car door before he was received with ululations by a group of women traditional dancers as they walked him towards the venue of the function.
It was then that Mr Muhoro ordered the provincial administrators and police officers to keep the group away from the venue.
A police officer who sought anonymity said they had received strict 'orders from above' not allow Mr Njenga and his followers at the venue of the fundraiser 'as they were likely to cause chaos.'
According to Kundarila Day Secondary School principal Charles Ndegwa, the former Mungiki leader had called him a few days earlier to enquire whether he could attend the fundraiser.
"He called me after getting my number from an unknown person and asked me if I was okay with him attending the fundraiser. I told him that there was no problem with him attending,'' said Mr Ndegwa, adding that he even offered to bring Sh1.5 million.
The school head noted that Mr Njenga would later appear at the fundraiser with an unwelcomed group of people and attempted to take over the whole function.
"We actually had no problem with him attending the fundraiser. Our concern was the way he arrived at the venue flanked by over 100 supporters and attempted to take over the whole event. This was likely to cause mayhem at the event that was attended by senior government officials," added Mr Ndegwa.
However, the incident has been highly condemned by Mr Njenga's supporters who accused Mr Muhoro — who is also rumoured to be interested in a top seat in the county in the next general election — of using his position to intimidate other aspirants.
"Mr Njenga had a right to attend the fundraiser just like other invited guest, they only gave him a political mileage by locking him out of the event," said Mr Peter Nderitu, a resident.
Mr Nderitu who was among those who were locked out of the event, said that they were free to support any person they wanted in the coming polls.
Last week, in a similar event, Mr Njenga — also the bishop and the founder of Hope International ministries church — expressed his interest in vying for the Laikipia County senatorial post to unseat the incumbent Godfrey Gitahi Kariuki.
Other politicians who have declared their interest in the seat include Laikipia County Kuppet branch executive secretary Ndung'u Wangenye, Mr Mururi King'ori, Mr James Githiri and Mr Peter Gathuo.
-nation.co.ke