Raila is a liar, he never sought my permission to allow Ntimama address parliament, Kaparo says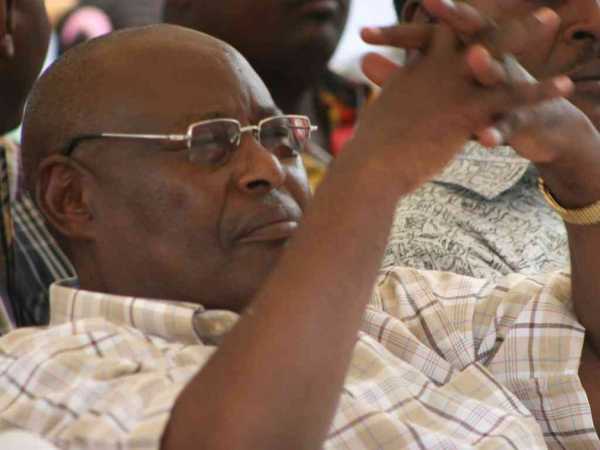 Former National Assembly speaker Francis Ole Kaparo on Friday told off opposition leader Raila Odinga for allegedly lying using his name.
Kaparo said the allegations made by Raila during the late minister William Ole Ntimama's burial that he (Raila) sought his permission to allow Ntimama to address parliament were false.
"Mtu ambaye ako na miaka mingi kunishinda kudanganya kwamba alikuwa ananiomba ruhusa ndio Ntimama aongee kwa bunge ni uongo mtupu, Wakenya wajue haikufanyika". Loosely translated to, "A man who is even older than I am should not lie that he in any way talked to me to give the late Ntimama a chance to speak in parliament, that is an outright lie and the country should know it never happened."
Kaparo was addressing residents at Doldol, Laikipia County during a funds drive.
The NCIC chairman was accompanied by leader of majority Aden Duale who was representing DP William Ruto at the event.
"It is wrong to make such allegations because during my tenure as speaker of Parliament i was not forced or even asked to favour anyone because it is a fair house," Kaparo added.
The burial of the late Ntimama on Wednesday turned into a political storm between President Uhuru Kenyatta and Cord leader Raila Odinga.
At one point, Uhuru told Raila "Kumeza mate si kula nyama. Sasa nyinyi endeleeni kumezea mate, sisi tutaendelea kula nyama." ("Swallowing saliva does not mean you have eaten meat. Continue swallowing saliva as we eat meat.")
Raila kicked off the storm, saying that after the late Ntimama led a delegation of Maasai's to State House last month, he called him and told him he was still in ODM.
"He gave me a call and told me he had not joined Jubilee. He said that one hand of Jubilee was important for the good of his community but the other was not," the Cord leader said.
"So today as we bury him, we will send him off with an ODM flag," Raila said.
On Friday, Raila said he does not regret his confrontation with President Uhuru Kenyatta during former Heritage minister William ole Ntimama's funeral.He said the Truth, Justice and Reconciliation Committee report detailing historical land injustices should be implemented in Ntimama's honour.